Lady Gaga Might Be Engaged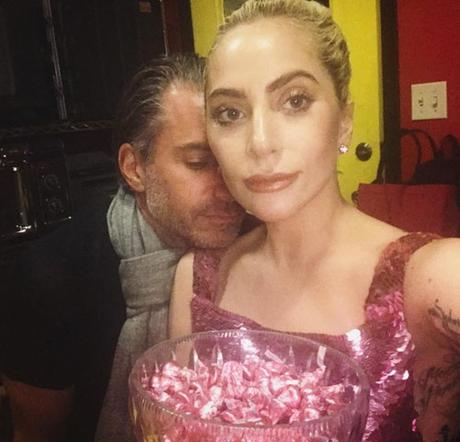 When I watched Gaga: Five Foot Two on Netflix, she had a very "we've ALL been there, gurl" moment when she artistically floated around a Baptismal pool post-Taylor Kinney break-up while sobbing about going home alone each night. But then she found this daddy of a new man, and reports today say he put a ring on it.
Gaga was first spotted canoodling with 48-year-old talent agent Christian Carino at rehearsals for the Super Bowl. I kinda scanned the initial news and thought she was spotted canoodling with Christian Siriano, so imagine my surprise when the first photos of those two were of Christian sucking the life out of her ear and not a Project Runway winner gabbing away with her about the importance of a fierce boot.
Lady Gaga dating talent agent Christian Carino https://t.co/6gOk4DFAt6 pic.twitter.com/fQ8hyoCkXl

— People (@people) February 9, 2017
Us Weekly says a source told them the two got engaged this summer after Christian asked her dad for her hand in marriage, but the current focus is on her healing from fibromyalgia and so they're not planning a wedding yet. Gaga has already nixed plans to appear at Rock in Rio and she's postponed the European leg of her "Joanne World Tour. "
But maybe not so fast. Gossip Cop is calling B.S. on Us Weekly and basically dragged them through those Tony Robbins seminar hot coals:
"Curiously, the tabloid has absolutely no details about when Carino supposedly popped the question. Nor does the magazine furnish any information about where he proposed. Also glaringly missing is how Carino allegedly asked Lady Gaga to marry her. Did he give her a diamond ring or not?"
The voice of the publicist that is Gossip Cop said they checked in with a Gaga rep, who said the couple is happy but the engagement report is "untrue." The fact checker then reminded its readers how Us Weekly got the reports of Charlize Theron and Sean Penn getting engaged wrong, too. GC said, "We highly suggest other outlets similarly fact-check stories before regurgitating falsehoods." It then invited People and the Hollywood Reporter over for a slumber party and spent the whole night drinking mocktails and giggling over what a fug, lying bitch Us Weekly is.
Pic: Instagram
Source: Lady Gaga Might Be Engaged
3 total views, 3 views today