This post may contain affiliate links. Please read my disclosure.
This healthy, vegan, and gluten-free lactation cookie recipe is perfect for nursing moms! These lactation cookies are low in sugar, easy to make, store well, and contain ingredients to help boost milk supply & production for breastfeeding. They also happen to be delicious!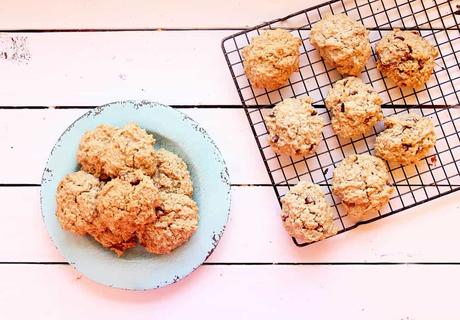 This one is for all the new Moms out there! When I was nursing both of my kids, I remember looking for anything that would naturally boost my milk supply without having any unwanted side effects (for me or my kids!) Lactation cookies were recommended to me by so many other moms and lactation consultants, but every lactation cookie recipe I came across was loaded with sugar, empty calories and refined grains. I didn't want to have to eat the equivalent of a candy bar multiple times a day in order to boost my milk supply, so I decided to come up with a much healthier version of a lactation cookie that still tasted as good as a regular cookie! These lactation cookies not only taste delicious but they are healthy too! They are vegan, low in sugar and gluten free - so you can feel good about eating a couple of these a day while you're breastfeeding your little one. Oh and the most important thing - they WORK! 🙂
Kitchen Tools and Equipment You'll Need to Make This Lactation Cookie Recipe
How to make This Lactation Cookie Recipe - step by step
Preheat the oven to 350F and line a baking sheet with parchment paper or a silpat. Pour 1.5 cups of oats into a blender, and process them into a fine flour. (Don't take the blender lid off right away- set the blender aside while the flour settles.)
In a large bowl combine the ground flax seeds with the water, and stir well to mix. Let sit for 5-10 minutes. Add in the coconut oil, coconut sugar, debittered brewer's yeast, vanilla, baking soda, and salt, and stir again until well combined. Gradually stir in the oat flour until a dough is formed, then fold in the 1 cup of oats and dark chocolate chips.
Drop the dough by heaping tablespoons onto the lined baking sheet, then use your fingers or a back of the spoon to flatten the cookies.
Bake at 350F for 10-12 minutes, until the cookies are lightly golden around the edges. At 10 minutes your cookies will be crisp around the edges but nice and soft in the center (they'll become more crispy the longer you bake them). Let the cookies cool before serving.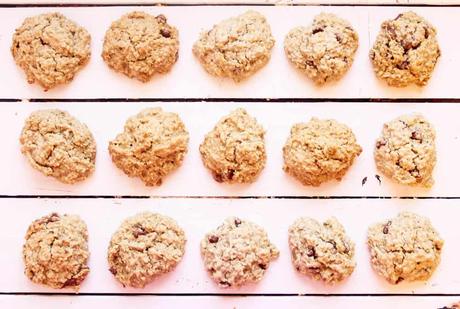 High in Whole Grains: You won't find any refined grains in this recipe! Packed with rolled oats and oat flour, these cookies are both high in whole grains and healthy carbs to keep you fuller longer.
Low in Calories: Most lactation cookie recipes can have 200 calories per cookie! These are only about 140 calories which means you can enjoy two per day as a mini meal or even for breakfast!
Low in Added Sugar: Each cookie has only about 9g sugar, which is much less than the typical 20+ grams of sugar you'll find in most lactation cookie recipes.
High in Healthy Fats: Flaxseeds and coconut oil give you a dose of healthy fats in this recipe. Flaxseeds in particular contain protein, lignans, and the essential Omega 3 fats (ALAs).
What Makes This Lactation Cookie Recipe Healthy?
What are lactation cookies? What This Makes Lactation Cookie Recipe Work?
Lactation cookies contain ingredients that boost nutrients to promote more milk supply for breast feeding moms. They also provide an energy boost that is often much needed! These cookies contain galactagogues, which is a fancy word for a food that helps promote lactation in humans and animals. Brewer's yeast, flaxseed meal and whole oats are all galactagogues and are all ingredients in this lactation cookie recipe! One note about brewer's yeast - you should check with your doctor before adding it to your diet since it can interact with a variety of medications and cause some unwanted side effects.
Do lactation Cookies Make You Gain Weight?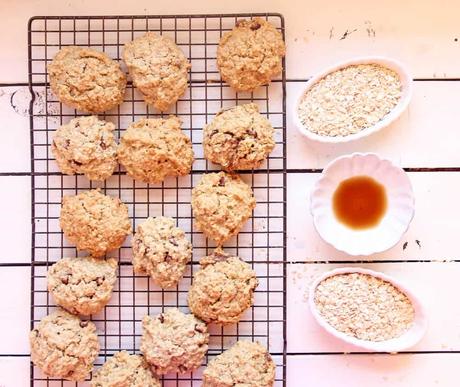 Most lactation cookies are basically as unhealthy as a candy bar, so if you eat too many of the "traditional" version you will likely put on some extra weight! These cookies are about 140 calories each, so I'd say if you ate 1-2 per day while you were nursing you wouldn't put on extra weight. As with all foods, these cookies should be eaten in moderation as part of a well balanced diet.
How Many Lactation Cookies Should I Eat Each Day?
I'd recommend sticking to 2 cookies max per day, mainly because more will likely make you gain weight since these are meant to be calorie dense! Eating more than 2 per day won't be harmful in the short term, especially while you're nursing, but you might end up gaining some unwanted extra pounds. If you do plan to eat more than 2 of these per day, I'd recommend cutting the amount of sugar in this recipe by half, so your cookies have only about 4.5g sugar each instead of 9g sugar each.
Can Kids Eat Lactation Cookies?
Yes! All of the ingredients in these cookies are kid-friendly. Just make sure your pediatrician is ok with your child eating brewer's yeast before giving these cookies to them. You can also adapt this recipe to just be a healthy cookie for your kids by. omitting the brewer's yeast altogether!
How to Make a Vegan and Gluten Free Lactation Cookie Recipe
Using gluten free oats instead of all purpose flour
Using coconut oil instead of butter
Using dairy free dark chocolate chips instead of regular (this is an optional ingredient of course!)
Using flax eggs instead of regular eggs
This is the lactation recipe you need if you have any kind of gluten intolerance or are following a vegan lifestyle. These cookies are made with gluten-free oat flour and coconut oil and make delicious cookies every time. I added dairy-free dark chocolate chips to mine, these of course are optional, but I highly recommend them!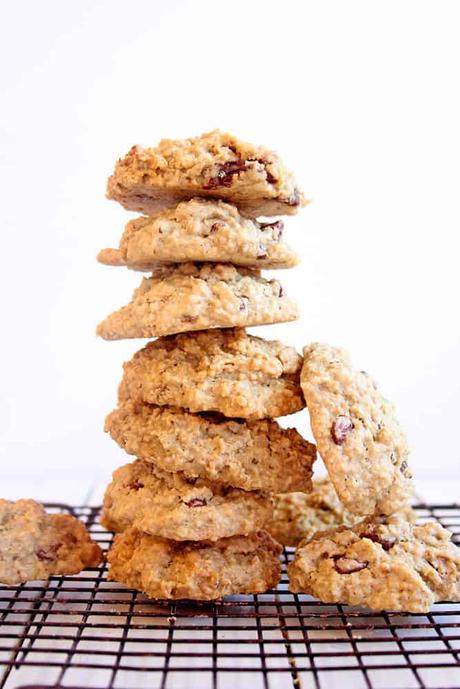 Store in the fridge for up to 2 weeks, store on the counter at room temperature in an airtight container for up to 4 days.
These cookies can be frozen too! Simply let them cool and put them in an airtight container or freezer bag with parchment separating them
When you place the cookies on the baking sheet, leave a little room between them to allow for spread.
The dough can a little crumbly, it might be easier if you use a scoop or just use a spoon.
Add some chocolate chips for those with a sweet tooth!
You can get brewers yeast from health food stores, or in the health food isles of supermarkets. It's a bit cheaper to buy brewers yeast from supermarkets than from health food stores.
Do not substitute the brewers yeast... that's one of the main ingredients that helps these cookies to boost milk supply!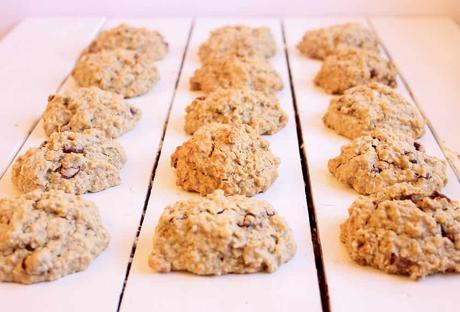 If you have tried this healthy gluten free lactation cookie recipe, or any other recipe on my blog, then please rate it and let me know how it turned out in the comments below! You can also FOLLOW ME on FACEBOOK, TWITTER, INSTAGRAM and PINTEREST to see more delicious, healthy, family friendly food!
A few easy substitutions make these cookies both vegan and gluten-free:
Top tips to make This Lactation Cookie Recipe
Be sure to check out these other healthy cookie recipes!
Lactation Cookie Recipe