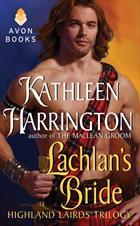 Title Lachlan's Bride

Author Kathleen Harrington

Publisher Avon

ISBN 9780062226334

Pub Date  April 30, 2013

Category Fiction, Historical, Romance
Summary:
The much-anticipated second book in the Highland Lairds Trilogy is here! First introduced in The MacLean Groom, Lachlan MacRath is a powerful laird, a mysterious pirate . . . and a legendary lover.
Lady Francine Walsingham cannot believe this warrior is to be her escort into Scotland. It is whispered that Lachlan MacRath has magical powers . . . how else do you explain his success as a pirate? But trust him she must, for a treacherous plot is about to reveal all her secrets . . . and Francine has no choice but to act as his lover to keep her enemies at bay.
When Lachlan first sees Francine, the blonde beauty stirs his blood like no woman ever before. As luck would have it, they must now play the besotted couple so he can protect her . . . and Lachlan is determined to use all his seductive prowess to properly woo her into his bed.
My Thoughts:
Ok I just devoured this book yesterday. I loved it so much that today I am going to track down a copy of Lachlan's brother Rorys story. Francine, the heroin took some time for me to really like. She tended to focus more on seeing Lachlan as a soccer for his amazing feats. Instead of seeing him as just a very intelligent and capable guy. He used his brains to solve problems when others would just give up thinking it was undo able, and the masses just equated his intelligence and tenacity to magic and sorcery.
There is plenty of mystery and angst in this book, as well as Romance as Lachlan tries to get Francine to loosen up and to fall for him. But Francines past has left her very weary of Scotsmen in general, and she has a deep rooted fear of magic. So she is quick to see Lachlans faults and slow to see his good points, as well as with his kinsmen. But Lachlan wears her down as he helps her with her job in Princess Margarets trek to her marriage with Scotland's King James. Lachlan also melts Francines heart with his treatment of her daughter Angelica, as he interacts with the child and treats her as naturally as his own nieces and nephews.
The storyline keeps moving at a fast pace and while Lachlan's and Francine's relationship ebbs and flows and as they learn to trust one another. While Lachlan is determined to make Francine his and she is equally determined to rebuff his advanced there are plenty of humorous interludes. Along with one huge mystery, and one known danger and another unknown to deal with.
Over All Rating: 4 Stars
Disclosure: This book was provided to me by the publisher via Edelweiss. The rating, review, and all opinions are my own