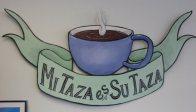 If there's one thing every traveler needs, it's a good coffeehouse.  Mostly because traveling requires a kind of energy I can only get from the best coffee; but even for the non-coffee drinker, a coffeehouse is a one stop greeting center.
Your barista will usually be able to tell you how to get places, what activities there are in the neighborhood, where to find the best music and food.  Your barista, equivalent to a bartender in useful information and emotional well-being, will point you in the direction of the best bookstores, the coolest non-touristy tourist sites, and can usually tell you which ones are free and which ones are overpriced.
Find the right neighborhood joint, wherever you are staying, and you will find flyers for things happening while you're in town that you might otherwise not discover.  You'll have numerous business cards and bookmarks for local indie authors you can check out while you're in their hometown, and you'll be able to gather your thoughts and plan your day over delicious less-commercialized foods and drinks.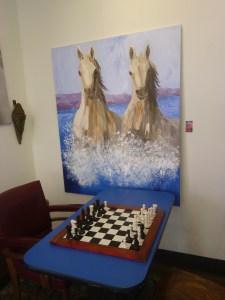 If that place is
La Taza
, in San Antonio, you'll also get to check out the local art scene while your barista warms a heart shaped Danish roll to serve you with your Hazelnut latte.  No, I did not take pictures of my Danish roll, I was too busy eating it while it was hot.
I did take some pictures of the walls while he was busy making my latte though, this painting of the horses in the water above the chess table struck my fancy.
There's also a puzzle table and a slew of board games and books to access.  Other decor included a not-so-Christmasy Christmas tree, dressed in flowers for summer.
The shop was about a mile from where I was staying, easily accessible by sidewalk from that neighborhood.  If I had had the time to enjoy the walk, rather than flit off to book signings, I would have – walked and meandered to my coffee, that is.
I can't wait to visit again.  Maybe next time I'll have my book signing there – it looks like they frequently have authors and musicians in the cafe.  In the meantime, you might be able to still pick up my bookmark from the table near the entrance.