It was the next natural step, after London and Dubai, for the Nice-born La Petite Maison to open up in Beirut. With to a large dedicated community of Lebanese living in the South of France, Beirut, the city, didn't need much introduction, thanks to this genetic loyalty. Bob Ramchand, Director of La Petite Maison, stated, "Beirut is my favorite place to sit down, have lunch. It reminds me of Nice with its light and the Mediterranean Sea."
This French Mediterranean restaurant, set in a casual chic atmosphere, serves classic Niçoise cuisine with a modern twist, creating light, healthy and deliciously palatable dishes with the very best, freshest raw materials. The concept is Mediterranean, specifically inspired by Nice. Plates are served in the middle of the table to be shared and enjoyed by the diners, a great way for people to foster togetherness over a sensational meal. Prepared à la minute – nothing is cooked or even cut ahead of time – the Niçoise Mediterranean cuisine with Italian Ligurian influences – is presented when it's ready to emphasize the freshness of this culinary experience.
The tomato, the lemon and olive oil on the table is a good reminder of the flavors of the South of France. Food for thought is to slice the tomato, season and enjoy.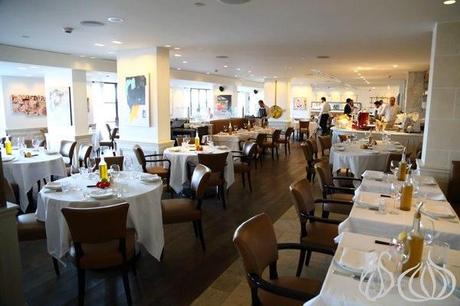 Chef Patron Raphael Duntoye gets inspired from his travels around the world and adapts tastes and flavors to La Petite Maison's classic South of France style. His latest signature dishes are the caesar salad and a passion fruit posset with fresh mango. The caesar salad features romaine lettuce, quail eggs, oyster mushrooms, baby artichokes in a gastrique marinade with sherry vinegar and honey, all in order to create the illusory tastes of bacon and chicken. I was curious to get up close and personal with his creations and was invited to spend some time with chef Raphael in the kitchen, a opportunity I was privileged and thankful to have received.
Nigerian-born Chef Patron Raphael Duntoye changed course in 1995 from his chosen career of engineering to follow a lifelong passion for food and cooking. Joining Butlers Wharf Chef School, he embarked on a journey that has led to his current role as Chef Patron of La Petite Maison's award-winning kitchen.
After five years working alongside the famed Pierre Koffman in the three-Michelin Star La Tante Claire, Duntoye credits Koffman, with teaching him how to "really cook". Duntoye is certainly in esteemed company, Koffmans' roll call of protégés is one of the most distinguished in British culinary history; it includes Gordon Ramsay, Marcus Wareing, Tom Aikens, Michel Roux Jr., as well as the original "enfant terrible", the legendary Marco Pierre White.
Soon, ready to spread his wings and take on new challenges and cuisine, Duntoye went on to work as Executive Sous Chef at Sketch in Mayfair, and Senior Sous Chef at the Japanese restaurant Zuma in Knightsbridge. His heart, however, remained with the flavors of France. Having built a reputation for subtlety, sureness, a lightness of touch and a reverence for the best fresh produce, Duntoye, with his pedigree in French cooking, was an obvious choice for new French Mediterranean project La Petite Maison, planned by Indian businessman, and Zuma's principle owner, Arjun Waney.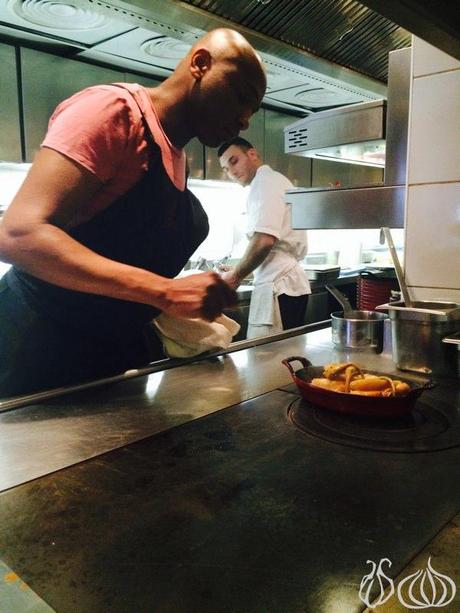 It was in June of 2007 on a light-filled street corner of Brooks Mews in Mayfair that Duntoye's dream, born in the lecture halls of Kings College London, became a reality.
"Food should be like a naked body; you should never hide any imperfection," says Duntoye. His signature dishes include marinated beetroot, lentil salad, burrata and tomatoes, marinated salmon, thinly sliced octopus, scallop carpaccio, salt cod croquettes, daurade au citron and baby chicken in lemon; all his dishes call for the freshest ingredients, there's nowhere to hide here.
Our journey started with the preparation of Duntoye's latest innovation: "LPM's Caesar Salad". Duntoye reinvented the famous salad to work alongside Middle Eastern cultures as well as the fasting season. Artichokes are used to replace chicken, mushrooms to replace the bacon. This will be a meat-free salad enjoyable by all.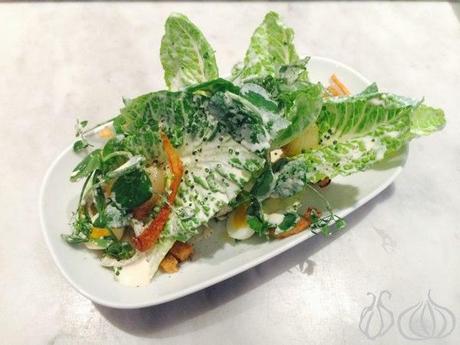 First of all, Duntoye started by frying the oyster mushrooms, added a bit of salt and the marinade (vinegar, salt and honey). Honestly, tasting those fried mushrooms made me reconsider ever eating French fries again and that's something. The mushrooms had a certain finesse and an incredible taste that, for me, could just replace fried potatoes. The artichokes were then cooked with soy sauce, adding a bit of honey to create a balanced sweetness.  What caught my attention was Duntoye's love for our local olive oil, specially the one they get directly from the village of Baakline. He made sure to explain that this is the only olive oil they could find with the same taste and flavor of the one they are used to in Nice.
After that, it was dressing time. Without adding any additional salt to the mix, Duntoye took a lettuce and massaged it with the sauce. The caesar dressing was absorbed by the vegetables one at a time before Duntoye set them on the plate. Quail eggs, mushrooms, artichokes, caramelized onions and homemade croutons, this is a plate that will really put a smile on your face.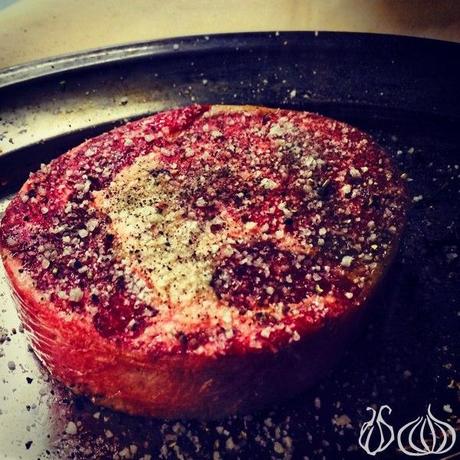 After that we entered the kitchen. I really wanted to enjoy their American prime meat which I found so incredible on my last visit. This time, I could see it being reproduced step by step thanks to Duntoye's extensive knowhow. Pieces had been marinated and prepared in advance and were removed from the fridge and left at room temperature to rest. Afterwards, they were cooked in La Petite Maison's "Josper" signature charcoal oven for few minutes, removed again for the blood to rest and the meat to maintain its rich color, then cooked for the second time before being served. All of this results in meat that's so tender and so juicy, like no other in town.
I had a wonderful time with Raphael, discussing Lebanon's food and produce, the Bekaa Valley, the knowhow, the farms and the agriculture, much of which he found astonishing. He told me how much he loves out country and its offerings. Other than the land, he's a fan of our seafood and Lebanon's generous sea life, with fresh fish like the red mullet that is so hard to find in Dubai's waters for example. As a result of all this, Beirut's menu differs from the one in Dubai. While walking around the busy kitchen, there was a turbo fish order placed. Fried meticulously with coriander, olive oil, white wine, shallots, fennel, artichokes, chicken stock and a bouquet garnis sauce, the two large pieces were fried until golden brown and served. I love spending time in the kitchen.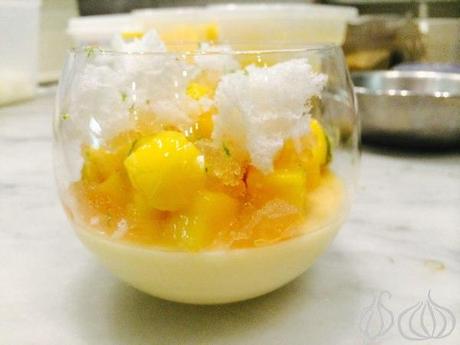 After that, it was dessert time with chef Dominic Wohlfart who reproduced in front of me, two desserts famous in Dubai. Passion fruit posset: similar to creme brûlée but made with no eggs and it doesn't need cooking, as well as the caramel mousse. So simple and so easy to create, chef Wohlfart added to that some fine touches, such as the Earl Grey iced tea, or the milk crisps, that transformed this dessert into a piece of art. Lemon, mango and passion fruit, the flavors were endless. Lovely textures, a fresh lemon zest, some melting mangos, a lemon hint that caresses your palate, crunchy milk crisps… a dessert that was complicated and simple at the same time. I honestly couldn't stop moaning, one bite after the other.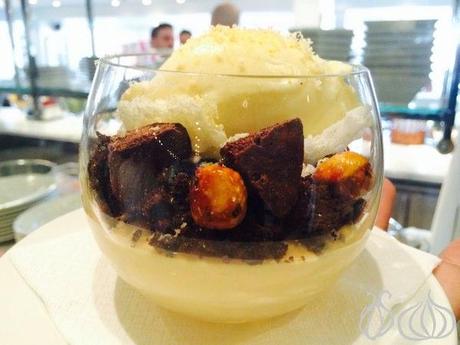 Caramel mousse: Caramel mousse, chocolate brownie, caramel-covered hazelnuts, milk ice cream. Lovely textures, premium ice cream, soft brownies, smooth mousse, and the crunchy hazelnuts are the cherry on top. Excellent.
La Petite Maison's philosophy is simple: "Tous célèbres ici". Heard, it holds two meanings: "Everyone is famous here" and "Everyone celebrates here". The restaurant welcomes people who savor exceptionally great, shared, home-style food, cooked with passion, and the best top quality, fresh sourced ingredients, prepared à la minute, there and then.
Concept: Sharing dishes are prepared à la minute, served in the middle of the table, and served only when ready to maximize the culinary experience.
Type of Cuisine: Niçoise Mediterranean cuisine with Ligurian Italian influences from across the border.
Signature Dishes: Warm prawns in olive oil, French beans and foie gras salad, scallop carpaccio, daurade au citron, veal chop cheesecake and the caesar salad with a twist.
Average Check: Lunch – $55. Dinner – $70.
I'm a fan… a big fan of the place, the concept, the food and style of this restaurant flow all around. Meeting with Duntoyewas a dream come true, this passionate chef is offering fine creations that combine Mediterranean knowhow, finesse, art and premium taste at the same time. If asked which is my favorite restaurant in Lebanon, LPM is surely in the top three.
























Pages  [
1
]  [ 2 ]