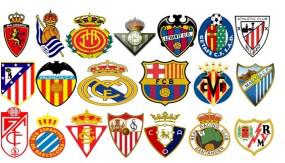 With the Super Cup done and dusted and Barcelona claiming their tenth title and third consecutive, the pre-season is officially over and it's time for the real season to begin. The summer saw many teams making a series of changes to their squads; some needless, others strengthening in the right places and will be looking to at the very least push both Barcelona and Real Madrid as far as possible. The first games to kick-off will be on Saturday, August 20th and it will see Espanyol welcoming new comers Granada to Cornella El Pratt and Real Zaragoza travelling to Valencia where they will face Levante. Both games taking place at 18:00 local time. Villarreal vs Sporting Gijón will immediately follow, while Osasuna welcoming a strengthened Valencia to Pamplona will round out the first matches of round one.  On Sunday match day one resumes with newly promoted Rayo Vallecano welcoming Mallorca to the Teresa Rivero and immediately following that is the newly owned Getafe travelling to Santander to face Racing, who recently went into administration and is one of five teams in La Liga that are currently in administration (this includes, Real Zaragoza, Real Betis, Granada and Rayo Vallecano).  The first derby of the season kicks off with a seemingly strengthened Real Madrid team welcoming the Basque boys, Athletic Bilbao to the Santiago Bernabéu and it should be a classic and a great way to start the season off for both teams.  A newly strengthened Málaga welcomes European champions and defending league champions Barcelona to La Rosaleda.  Another huge derby will round out Sunday's games as Real Betis will make their return to the first division by opening up against fierce rivals Sevilla at the Benito Villamarín stadium.  The final match of round one will take place on Monday evening with a depleted Atlético Madrid travelling up North to face Real Sociedad.
That is the expected schedule for the first round of matches, however, there is an impending strike as footballers have voted to strike for the first two matches of the new season over collective bargaining rights for wage protection.
Espanyol vs Granada
Espanyol will kick their season off at home on Saturday when they welcome newly promoted Granada to the Cornellà El Pratt.  Espanyol is one of the few teams that made little changes to their squad including the return of Dídac Vilà on loan from Milan and Rui Fonte making his stay in Barcelona permanent.  After 35 years of absence from top flight football, Granada earned promotion after winning the play-offs against both Elche and Celta de Vigo.  The team will be one of four teams representing the autonomous community of Andalucia.  Coincidentally, the strongest represented community of Spain in the top flight division this season.  El Graná, as the team from Andalucia are called, is one of many Spanish teams that are experiencing major financial problems and are one for five teams in the top flight that are in voluntary administration.  In fact, the andalucian team has no less than six players on loan following their promotion, in their attempt to cut back on spending.  Of the 17 seasons Granada has played in the first division, they have met Espanyol 16 times in Barcelona, where they have only managed one win and three draws – the last win coming in February 1972, ending 2-3.  The team's last visit to Espanyol's home ground was in 1975, incidentally the last season that saw Granada in the top flight, and ended in a 3-0 defeat and their last four trips saw them defeated three times, drawing the other.
Levante vs Real Zaragoza
Last season both teams started out in similar style, failing to win in their first three matches and are starting the season how they ended it; against each other.  Both teams managed to turn their poor start to the 2010-2011 season around, managing to collect 45 points at the end of the season finishing 14th and 15th.  Levante, was by far more impressive in the second half of the season losing only four games from their last 18 of the season.  Real Zaragoza, on the other hand could still have been relegated on the final day of the season, which they won, thus handing them salvation.  Levante has strengthened their ranks this season with the signings of former Liverpool player Nabil El Zahr, Barkero, Gustavo Cabral, Xavi Torres, Aranda, Pedro Lopez, Keylor Navas and Farinos, while making the signings of Caicedo, del Horno and Pallardo permanent.  Real Zaragoza have also strengthened bringing in a few promising players like Juan Carlos and David Mateos from Real Madrid, Abraham Minero and Eduard Oriol from Barcelona, Franco Zuculini from Hoffenheim, Efraín Juárez and Roberto.  However, Zaragoza sold one of their most promising players, Ander to Athletic Bilbao.  The two sides have met at the Cuitat de Valencia ten times, of which the results have been evenly split with Levante winning four, drawing three and losing the other three including last season's 2-1 defeat on the final day of the season.  Both teams would like to kick their season off on the right foot and will both be vying for a win in the opener, especially the home team as they will be seeking revenge after being beaten by the blanquillos in both games last season.
Villarreal vs Sporting Gijón
The yellow submarines kick their season off in El Madrigal against Sporting Gijón.  The home team have made some major changes to their team, which has seen World Cup winner Joan Capdevila leave for Benfica and his departure left a huge gap to fill on the left side of defense, which the submarinos are yet to address.  Additionally, the club saw the departure of Euro 2008 winner Santi Cazorla to be apart of Málaga's exciting sports project, American striker Jozy Altidore making the switch to AZ Alkmaar, Matilla and Montero to Betis.  On the up side, the home side did do some recruiting, bringing in Camuñas from Osasuna, Zapata from Udinese and Cesar Sánchez on a free from Valencia.  The visitors also did some strengthening by bolstering their front line with the addition of Trejo from Mallorca, midfielder Ricardo Leon from Tenerife and Uruguayan defender Damian Suarez.  Both games last season, between the two, ended deadlock and were a factor in Villarreal finishing fourth and not third.  This season, the yellow submarines will hope to kick things off on a better note and defeat the Asturian team.  There have been five games between the sides at El Madrigal, the last four the home side have been undefeated with three wins and a draw.  The other ended in a victory for the away side, that coming in October 1999.  Overall, the teams have met each other ten times with Villarreal winning six, drawing two and losing two.
Osasuna vs Valencia
Valencia, one of the few teams in La Liga that has REALLY strengthened their squad will start their season off on the road in Pamplona against Osasuna.  The home team sold some of their more impressive players such as Camuñas, Aranda, Pandiani and Monreal.  In their attempt to replace those players, Osasuna brought in Raitala, Nino, Bertrán, Ibrahima Balde and Ruben Gonzalez.  The visitors did an impressive job in the transfer market and despite a couple weeks still left in the transfer window, seem certain to hold on to their sought after player, Mata.  Los Ché brought in former Real Madrid player Dani Parejo, promising attacking midfielder Canales, young Argentine starlet Piatti, goalkeepers Pereira and Diego Alves and defender Rami.  They also made way with dead weight such as Cesar Sánchez, Joaquín, Moyà, Chori Domínguez, Nacho González, David Navarro and Vicente.  Despite Valencia's excellent reshaping, the Reyno de Navarra is probably one of the worst stadiums they could hope to start their season off as they have only won ten of the 34 matches played there.  Their last visit ended in a 1-0 defeat, Cejudo scoring the winner in the 59th minute for the host.
Rayo Vallecano vs Mallorca
After an eight year hiatus, Rayo is back in the top flight and will begin their campaign at home against Mallorca.  The team from Madrid, despite players not being paid for some months, fought vigorously to earn a second place finish in the Segunda Division.  Rayo is one of the five teams from the top flight that are in administration and are still struggling to pay their staff.  This also led to them having to rescind a few players' contracts for the coming season.  Mallorca, another of the teams that are not financially stable did some tweaking with the purchases of Calatayud, Chico and Alfaro.  Both teams are presumed relegation candidates as Mallorca barely escaped relegation last season and Rayo being new comers.  With that said, the teams will be hoping to kick the season off in the right direction by picking up all three points.  The two sides have met each other at the Tereso Rivero on 21 occasions with the home team winning 11, drawing seven and losing three.  Mallorca's last visit ended in a 2-1 Copa del Rey defeat. 
Racing Santander vs Getafe
A newly owned Getafe will travel to Santander where they will face cash strapped Racing at the Sardinero.  Getafe as usual brought in youngsters, want aways and players deemed surplus to requirements from other teams, such as Sarabia, Juan Rodríguez, Lopo, Lacen, Diego Castro, Moyà, Albertazzi, Valera and possibly Pedro Léon.  Additionally, they managed to lure Levante's manager Luis García Plaza to be the new head coach.  Racing meanwhile, filed for administration, lost coach Marcelino, Henrique (went back to Barca after his loan), Lacen, Coltorti, Bolado, Pinillos and some other players who were on loan last season.  With such an exodus from the club the verdiblancos still have not made many deals to bring in players with only Stuani and Acosta the only two players that were brought in during the summer.  To make things worse for the home side, they have lost their last two meetings at home against el geta and have not beaten the visitors in the last four games at home.  Racing is definitely one of the teams we expect to see struggle this season and a win on opening day could go a long way for them this season.
Real Madrid vs Athletic Bilbao
After losing the Super Cup to Barcelona on Wednesday, Real Madrid will kick their season off at home on Sunday against Basque side Athletic Bilbao.  Athletic will be hoping they can take advantage of Madrid's misfortune and hope they can take all three points on the first day against one of their hated rivals.  Los leones made very little changes with the only major change being that of coach Capparós as well as the purchase of promising midfielder Ander Herrera from Zaragoza.  Their opponents on the other hand, made some needless changes to their squad bringing in Callejón, Şahin, Coentrão, Varane and Altintop.  While these are some excellent players they were definitely unnecessary for a team that was reasonably two deep in all positions the season before.  Both teams share a rivalry that goes deeper than football and the match should be an entertaining one.  The two have only ever played in the first division and have met each other 80 times at the Bernabéu with Real Madrid winning 55, drawing 15 and losing 13.  Bilbao's last win in Madrid against los blancos came in February 2005 when del Horno and Iraola netted for the visitors.  The last seven games have ended in wins for Madrid with 25 goals for and six against.
Málaga vs Barcelona
Fresh off their Super Cup win over Real Madrid, making it a record tenth cup, Barcelona will travel to Andalucia where they will face a significantly strengthened Málaga team that may prove dangerous this season.  The home side made so many decisive signings during the summer with young Argentine Buonanotte, Dutch defender Mathijsen, former Real Madrid and Manchester United striker Van Nistelrooy, left back Monreal from Osasuna, French midfielder Toulalan, defender Sergio Sánchez and wingers Santi Cazorla and Joaquín.  Barcelona, this week finally secured the services of former youth teamer Cesc Fabregas who joins their other summer signing Alexis Sánchez.  Youngsters Jeffren and Bojan were sold while Milito's contract was mutually terminated.  In the last ten home matches against Barcelona the anchovies have only managed to win once and that victory came in December 2003 when Salva Ballesta scored a hat-trick along with a goal from Alonso and Canabal in a 5-1 demolition of the Catalans.
Real Betis vs Sevilla
What a way to begin the season?  What a way to kick off the return to La Liga for Betis?  Sunday's round of matches will close out with one of the biggest derbies in Spain.  It may not be quite as big as El Clásico but the Derbi Sevillano does have an impact as it encompasses everything a true derby requires- tension, spirit by both the fans and players, passion and fight.  The last derby between the two teams took place February 7, 2009 at the Ramón Sánchez Pizjuán with Betis stealing a narrow 2-1 victory- Oliveira and Sergio García the goal scorers for Betis.  The teams have met 100 times with Sevilla dominating the series with 45 victories to Betis' 32.  However, Betis dominates the head to head at home, winning 20, drawing 14 and losing 15 and despite struggling financially Betis will not be any less dangerous.
Real Sociedad vs Atlético Madrid
A slightly depleted Atlético Madrid will kick their season off up North against Real Sociedad on Monday night.  The home side have made only ONE change this season and that was to bring in former Valenciennes coach Montanier to replace Martin Lasarte.  Atléti, however, made quite a few changes including the sale of two key players Agüero to Manchester City and De Gea to Manchester United.  They brought in Spain's u21 player Adrián from Deportivo, Miranda from São Paulo, Silvio from Braga, Gabi from Zaragoza, Curtois from Chelsea and Turan from Galatasaray.  Additionally, Manzano was brought in to replace Quique Flores.  Prior to last season's 4-2 success for Atléti in the Anoeta, they had previously lost seven games on the trot against the host and have overall, lost 33 of their 62 visits.
My top matches of the round
Osasuna vs Valencia:  Personally, I'm more keen on seeing how los ché will begin their season with the team they have especially away from home at a stadium they have had some difficulty.
Real Madrid vs Athletic Bilbao:  An opening game against an old rival is not exactly the way any team would like to open their season and especially away from home.  For Bilbao, their last two trips to Madrid ended in 5-1 thumpings and they will be looking to address that under new coach Bielsa.  It should be an entertaining match.
Málaga vs Barcelona:  If you have to ask why Málaga vs Barcelona is a top match of the weekend then you have obviously been living under a rock for much of this summer.  Málaga's new sporting project is nothing short of intriguing and exciting and what better way is there to make a statement in La Liga this season than beating the European Champions at home on the opening day?
Real Betis vs Sevilla:  One word…Derby! Need I say more?

By TwitterButtons.com