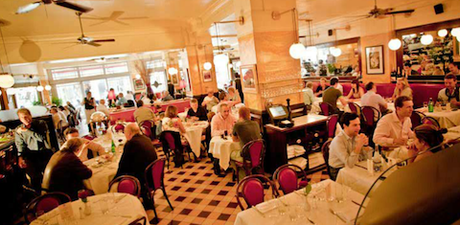 Where
La Brasserie
272 Brompton Road, SW3 2AW
0207 581 3098
What
Rossmore rock oysters (Jersey) – £25 for 12
The plump bivalves were well shucked and brimming with juice perfect for mopping up with the delicious sourdough. They came with lemon, shallot vinegar, tabasco and worcestershire sauce.
***
Steak Tartare – £19.90
This was our favorite main because it epitomised what La Brasserie is good for; hearty classic simple French dishes. The portion was large and came with an order of tasty thin crispy frites. The tartare itself was well seasoned and the soft minced steak contrasted well against the slight crunch of the gherkins and onions.
Hamburger Holstein – £16.90
A classic Holstein is a super savoury combo of meat, anchovy and caper laced with the smoothness of egg yolk. This egg was cooked perfectly but unfortunately the anchovy and capers were hidden on one corner of the burger and lost in the huge weight of the meat. The whole dish did not seem to work together maybe because the meat itself was dry despite using chopped steak which you would expect to be moist when cooked medium. The dish also came with a basket of frites.
Drink
Tap water – free
3 glasses of Champagne – £11.50 each
2 glasses of Fleurie – £7.50 each
Atmosphere
We visited at 8pm on a Tuesday evening and the place was packed, full of locals and a good mix of clientele. The dining room itself is classic brasserie with mirrors, arty French posters, a shiny brass bar and big open glass frontage with tables on the street. The black and white clad waiters were attentive, formal and knowledgeable about the menu and wine. We began with some drinks at the bar (independently called Pierre's) and then moved to the dining area which added some occasion to the evening.
Offers
Monday Nights – £38.50 for Chateaubriand with frites and Béarnaise sauce for two
Pierre's Bar – cocktails are 2-4-1 between 5-7pm every day, Sunday nights £6 each between 7-11pm
Verdict
GO!
This is a neighbourhood restaurant for people popping in for supper without much occasion but popular as such so you are guaranteed an atmosphere. The food is good if you order simply and don't want anything too elaborate, while the kitchen is skilled you have to choose wisely as too many ingredients let it down as with our Steak Holstein proving 3 ingredients too much. We would return on a Monday for the Chateaubriand offer.
Neon were guests of La Brasserie