Last weekend, Printed Matter, Inc. presented the first annual LA Art Book Fair, the West Coast companion to the NY Art Book Fair held every fall in New York, at The Geffen Contemporary at MOCA in Los Angeles, with over 15,000 people from artists, book buyers, collectors, dealers, curators, independent publishers, and enthusiasts in attendance.
Attendees were brought together to meet and to get their hands on some of the most influential art books and publications in existence. Over 200 "international presses, booksellers, antiquarians, artists, and independent publishers from twenty countries" were present, with works shown by Larry Clark, Tauba Auerbach, Gary Scott Davis, Richard Prince, Mike Kelley, and Ari Marcopoulos.
Amongst the tables and rooms full of books, there were interesting events, like "Design Authors and Auteurs: Designers' Books Ascending," where designers Brian Roettinger, Tanya Rubbak, and Adam Michaels discussed their experiences making and publishing books, as well as their rotating roles as author, editor, designer, and publisher. Sundown Schoolhouse also provided an escape from the energetic rush of the fair with a Reading Lounge equipped with yoga mats, blankets, herbal tea, and knitting supplies.
Slideshow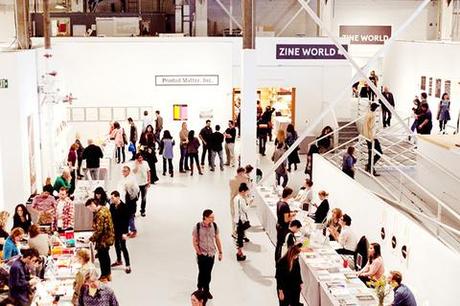 The main lobby of The Geffen, on the second day of the Book Fair before the rush (over 15,000 visitors in the three-day fair).