Rating:
80/100
Welcoming:8/10
Menu Choices: 8/10
Food Presentation: 8/10
Food Temperature: 8/10
Food Taste: 16/20
Service: 8/10
Ambiance/Music: 8/10
Architecture/Interior: 8/10
Air Quality: 8/10
Total: 80/100
L'embarcadere is a simple restaurant located out of the historical city of Blois on the way to the castle of Ambroise. Leaving the city center to try this little eatery recommended by Le Bottin Gourmand is worth it.
Park in front of the wooden raft and enter into a fisherman's world, a ship's kitchen I would say. Lots of wood, ship's windows, fishing equipment and old lanterns add a touch to the place.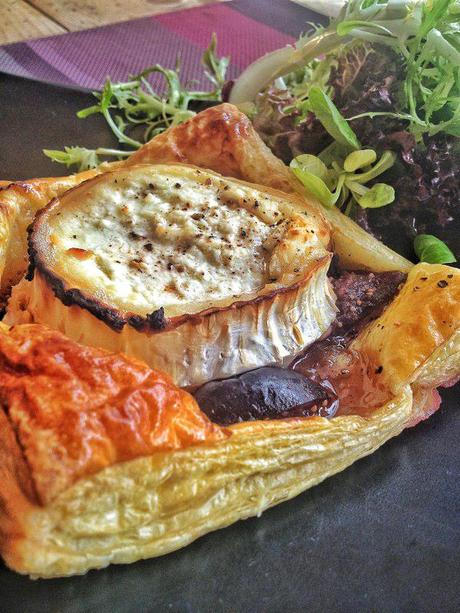 The easing pluses :
- Pink glass water bottle served free of charge
- Soft musical background ambiance
- Rustic wooden tables covered with coloured place mats
- A beautiful relaxing panoramic view over the Loire river
- Toasts offered to start with pork spread and local olives followed by the authentic crunchy French baguette
- Plates are extremely hot preserving the appropriate food temperature.
- Every dish is prepared the artisanal and homemade way.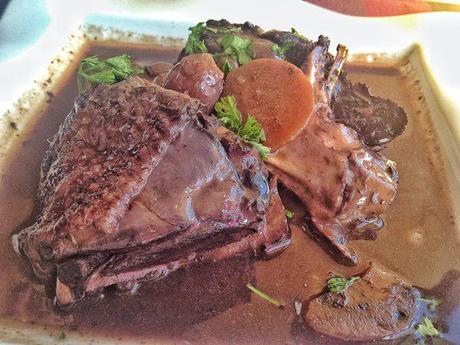 We ordered from the handwritten blackboards decorating the restaurant's walls:
- Lunch menu for 27,5€: Cassolette de petoncles au safran, risotto de magrets fumes aux champignons, fondant au chocolat caramel au beurre sale.
- Tarte fine au chèvre, figue et miel : 6,80€ served with green salad
- the signature french plate: Coq au vin de Touraine, pâtes « spaetzle » sautées au beurre 15,50€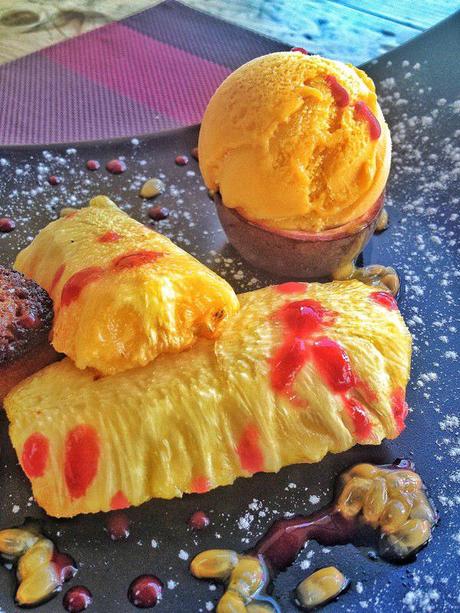 Delicious and prepared with love:
- Cassolette de petoncles (Scallops) au saffron was extremely hot served in a hot plate as well with a generous number of scallop cubes crunching under my teeth and all floating in a saffron sauce activating every millimeter of your taste buds.
- The risotto was a bit over cooked and not aldente but the mix of ingredients of this beautifully presented plate made it great to eat. Risotto with fresh cream and cooked onions, placed in a deep dish covered with melted cheese, soft sliced mushrooms around it and on top the Magret (Duck) meat. I loved it!
- Coq au vin is very good. Its a French braise of chicken cooked with wine, lardons and mushrooms. Perfectly prepared, soft and tender, cooked as it should be and generous-let's say all the plates are generous… The same way my step-mother prepares it.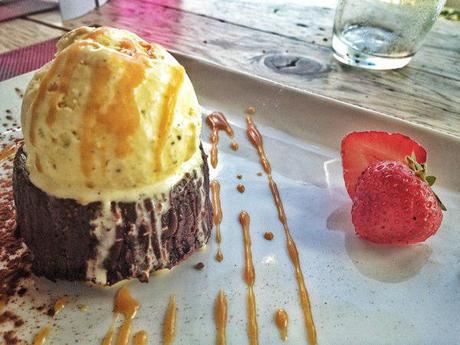 - The dark chocolate caramel and salted butter creation is just perfect. Soft without melting with a chocolate caramel an salt tastes perfectly blending together. Every bite is welcomed in your mouth with a symphony… Your tongue will do the needed job, just appreciate.
- Ananas rôti au miel, sorbet à la mangue 6,90€: The roasted pineapples with their passion fruit sorbet are as good as the chocolate fanfare; a plate very high standards.
A very nice detail I learned:
Their napkin ring is made of carton with the restaurant name and website printed on. Just tear away the two sides and you have a business card ready to be inserted into your wallet.
Things don't have to be complicated to be good. When prepared with love food is one of the world's best pleasures.
























Pages  [
1
]  [ 2 ]  [ 3 ]  VN:R_U [1.9.20_1166]