Few days back, when I wrote an article listing the Best Keyword Research Tools, I mentioned about KWFinder as a potential competitor to the another  popular keyword research tool Long Tail Pro.
Well, after using KWFinder for more than 2 months, I've decided to write a complete review of KWFinder.
KWFinder is available as a free keyword research tool and also as a premium plan subscription with no restrictions at all. You can consider KWFinder as an alternative to Long Tail Pro.
Visit Official Site and Give

My Exclusive 30% Discount
Along with this, we have a special KWFinder Promo code for our readers which you'll be able to find in this article.
KWFinder is a keyword research tool which promises to generate Long Tail Keywords with Low Competition and yes, it definitely does what it claims.
Visit The Official Site for KWFinder Here
The user Interface of KWFinder is pretty easy as compared to Long Tail Pro. Here is how it works
You enter a Keyword related to your Niche
KWFinder will show you list of Longtail Keywords relevant to your Niche.
Click on SEO column to check the SEO difficulty Score
Sort your Keywords according to Global Search Volume, CPC, etc.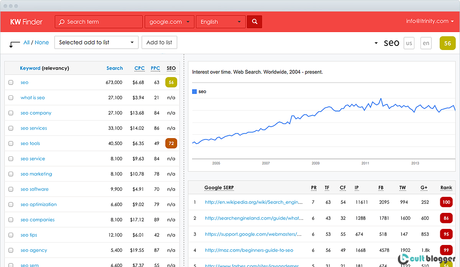 How to check SEO Competiton with KWFinder (Tutorial)
I was really impressed with the SEO Competiton analysis feature of this tool. Unlike other tools, it doesn't show the competition of the AdWords PPC.
KWFinder analyzes the metrics like Citation Flow, Trust Flow, PR etc and then generates the SEO Difficulty factor out of 100. To check the SEO Difficulty for a particular Keyword,
Enter your Desired Keyword and Click on Analyze Button.

Your SEO Difficulty Score out of 100 will be displayed on the screen.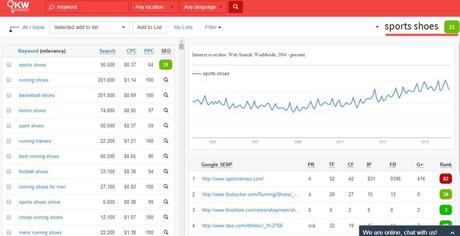 Lower the score , easier it is to rank your website high on Search Engine with that particular Keyword.
Hence, it will be easier to rank better in the search engine results with a keyword having a difficulty score of 9 than with a keyword having higher SEO  difficulty score.
The best part feature of this tool is you can see the top ranking sites for that Keyword along with their metrics and SEO Competition.
Also, once you're done with your Keyword Research, you can save your desired keywords in a single list which will be saved to your account.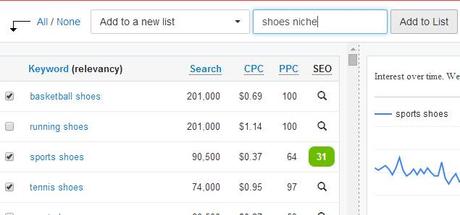 This is a pretty useful feature if you have too many keywords with you. You can Export all the keywords as a CSV file and download it to your computer.
Keyword Tool Effectiveness
This tool has a lot of potential to be an excellent alternative to Long Tail Pro. In fact, I find it better than Long Tail Pro in some areas.
It shows highly relevant results for your Niche and the SEO Difficulty analysis is pretty good.
I have used it to generate high CPC Long Tail keywords with Low SEO Competition and it has worked decently for me.
Also See: 6 Things Every Blog Article Should Include
 Free Version vs Paid Version
KWFinder is one of those keyword research tools which provide the most of the important premium features for free. You can create a Free Account  which allows you to perform 5 Searches in 24 Hours and shows only 50 Keyword Results for your research.
Well, if you are doing a keyword research for a small niche then 50 Keywords are sufficient for your research.
The paid version provides you three different plans, "Premium", "Agency" and "Basic" according to your requirements: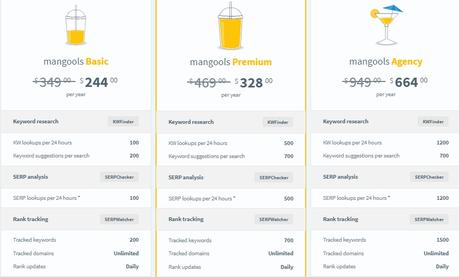 The Basic Plan provides you 100 Searches per day while the premium plan provides you 500 Searches. There isn't any unlimited plan but they are surely planning on one.
Bonus Tools
The reason why we recommend everyone to buy this is that you'll also be getting some bonus SEO Tools.
Yes, they are bonus tools because they are included in your subscription package without any additional charge. These Mangools bonus tools are:
SERPChecker – For Search Engine Ranking Position Analysis (

Free

)
SERPWatcher – For keeping the track of your Search Engine Rankings/Keywords (

Free

)
LinkMiner – For backlinks analysis (

Free

, Coming Soon)
This is a perfect combo package and if you are really interested in dominating your niche, this subscription package is recommended.
Exclusive KWFinder Discount Code
As promised, we have a special and exclusive 30% OFF DISCOUNT CODE for all the readers of Cult Blogger which you can use to avail discount on any  Subscription Plan.
You will get the discount not only on KWFinder but also on all the other Mangools tools.
You can find the code below for to get KWFinder Discount:
KWFinder Discount
30% Lifetime Discount on the whole Mangools Subscription Package
Get Deal
KWFinder Discount
30% Lifetime Discount on the whole Mangools Subscription Package
Get Deal
Final Verdict
If you are looking for an alternative to Long Tail Pro then this can be an excellent choice.
The user interface is very simple and the keyword research and analysis is very effective.
What I've liked about this tool is the customer service team who are ready to answer all your questions. You can give it a try using the free version.
For now, I wouldn't say that KWFinder is the Best Keyword Research Tools at the moment but it has a great potential to become one in the market.
UPDATE: When we reviewed this product, it was still in the early stages. Now, the product has been improved a lot.
We can say that it's one of the best keyword research tools in the market.
If you are looking for an alternative to this, you can also take a look at SEMRush.
If you feel that this KWFinder Review is useful then please consider it sharing with others. For more questions , post in the comments section below. To create your Free Account , Click Here.
Also See: 7 Essential Blogging Investments for Newbie Bloggers