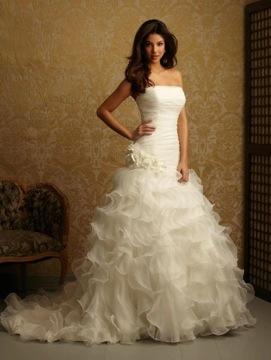 I recently saw some photographs of a wedding here and I had never really thought about it before but really, here we go 'formal', OTT, Karen Millen just won't do.
Last year, I took my English grandmother to a party, we (my family (Kuwaiti side) explained to her that a nice skirt and a jacket just wouldn't work. She needed to dress like a bridesmaid basically in the UK, to blend in….
We really go over the top here and I love it.
Think Kate Hudson in What A Man Wants, that dress is perfect for a formal dinner with the company back home in the UK but it just isn't glitzy enough for here. Don't think Jennifer Anniston in a pinstripe suit will work either, it won't.
Advice to foreigners, if you are attending a Kuwaiti wedding, dress accordingly, think, The Oscars Red Carpet, yes, really. You might feel silly but trust me, not as silly as you will feel in your New Look platforms and Coast dress.
There are some marvelous tailors out here that can whip you up a dress in a week, if you don't have that much time, I suggest the dress souk in Farwaniya, prices start from 40kd and go up as high as your mind can count. Personally, I wouldn't spend more than 120-150 on a dress for a wedding party unless it was my sister in law or a close friend, you can find really pretty dresses for 40-80 with just as much sparkle as you need!