Kuutamolla (2002) is a Finnish movie based on a novel written by Katja Kallio. It's directed by Aku Louhimies.
Kuutamolla tells a story about Iiris, a girl who works in a book shop, spends her days watching movies and dreaming about great love, the kind of she would see in the movies. This is not a typical love story, it's a story about no love, about many loves and many heart breaks. It's funny, cruel, real and brilliant.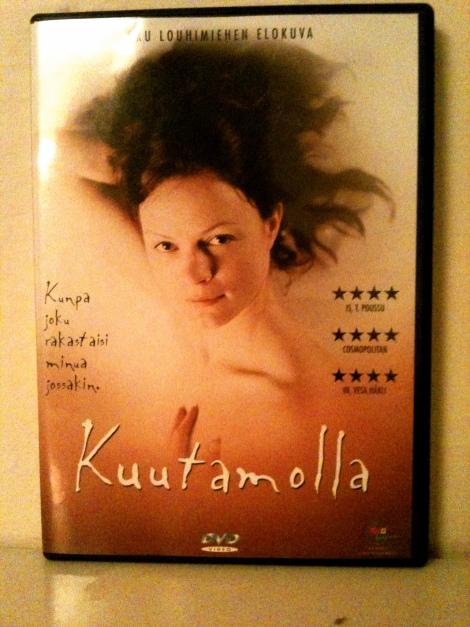 Here's my favorite quotes of the movie to walk you through it. Then watch it.
- I drink 12 cups of coffee every day. That's about  the only bad habit I have.
- You can't always wait for the feelings to come first. Sometimes you have to take what's there and hope that the feelings come after you.
- I'll never eat spaghetti on a first date again. Or on dates in general.
- Let's go to your place.
- Why have you taken your shirt off? I think you should go home.
- Have I given birth to my own mother?
- Nine in Gilda.
- We spend the first 12 years of our life hoping for meow candy. Then we spend 14 years hoping for more sex.
- Someone should fuck her properly too.
- Could you hold her for a while please? -No thanks.
- What's your name? – Easy. – That's not any kind of name. – That's easy to remember.
- Tell me some horrible secret.
- I don't think there's anyone out there who would love me just the way I am.
- What's your biggest dream? – You can't laugh. I've always wanted to horse back ride like they do in the movies, on a beach or in the forest. – Why haven't you? – I didn't want to do it alone.
- Tell me a thing no one else knows and tell me where have you been. – Here.
- I don't even know who you are and I already love you.
- She's even more irritating happy than she was sad.
- Here's Anna. She wasn't invited to this event.
- I was born on the day I met you.
- Sorry for being late. I was trying to choose a shirt. These are the ones left by the previous men. Which one's was this.. There has been so many, I can't remember anymore.
- If you don't relax soon you'll get a heart attack.
- I don't want to waste our time for sleeping.
- I have never heard a word of you.
- What do you do then? – I am a taxi driver.
- I think I'm not interesting anymore.
- I have a friend who learned how to juggle for situations like this. When her men got bored, she would entertain them with circus tricks.
- I wouldn't marry outside in the summer time.
- I don't know how to say this. I don't think we're happy. I don't think we're happy enough.
- I could get to know your friends, learn how to wall climb. Give me a month, I'll make you happy.
- That's it then. Want to break something?
- All that time when we were together I never really believed he loved me. And now when it turns up he doesn't, I don't really believe that either.
- Have you slept? – No. – Are you depressed? – Yes. – Do you want to get angry?
- The man of my dreams left me. I thought I would die. To be honest, I tried to die a little.
- Life is a bitch and so am I.
- When was the last time you slept? – In April.
- Are they alone? How does she look like, what does she look like? – Like a whore.
- Guess what I feel like? – Filled cake. (pukes)
- You start dating other men now, make a child or something. You two could be pregnant at the same time. – Fucking great idea.
- I have made ordinary men amazing.
- There's only ordinary people. You made each other more amazing than you were. You continued, he got tired.
- This is a plant, this is a human. I took them to remind myself that I can't live in a green house.
- Is your mum home? – No. – Where is she? – Left. – Where? – By taxi.
- Mum says when you drink tea it tastes like you'd stick your tongue out of the window.
- How did you survive Marko? – Not very elegantly.
- You've fucked. More than once.
- Have you thought how permanent this is? – No.
- Dad, will Iiris be your wife too? – In Finland you can only have one wife. When you grow older you'll realize Finland is a shit country like that.
- I think it would be better if I slept home tonight. We still have time.
- I can't right now.
- 2 Dry martinis please. – She drinks margaritas.
- Are you in love with him?
- I can embarrass myself, I don't need your help with that.
- After you it's been lonely. Restless.
- Sometimes it just takes some time to realize who the right one is, but when you do, it's like magic.
- You're the best thing ever happened to me.
- Iiris Vaara, Marry me. – So that you could teach me how to drive? – No. Because I love you.
- Are you able to sleep with him? – I learned to sleep by myself too. I'll learn.
- I didn't plan it. It just happened.
- Now it was too late to continue from where we had left things. It didn't work anymore.
- He looks just like Santtu… His nose and…
- Have you got the tickets? Lets go, lets go.
- I can't do this. I don't want to live in a green house. I feel like I'm suffocating. I can't sleep with you. I never could.
- No coffee for me thanks.
- You look like a prisoner. – You look like Bob Marley.
- Take care. – You too.