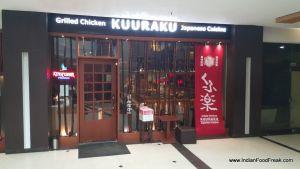 Having just come back from Europe, my companion and I were looking to lunch at some place serving food other than Italian/European. Global Foyer on Golf Course Road boasted two far-east Asian cuisine restaurants-one Korean and the other Japanese. The Korean one that we entered first, (at random) started off on a disappointing note with none at the entrance to seat us. We did catch the attention of a passing waitress, only to have her overlook us for a group of Koreans clients who came after us. It was clear to us that the restaurant cares a fig for neither Indian nor European clients (my companion was European). We stepped into the conveniently located Kuuraku that was next door. Thus, we discovered a gem of a restaurant whose name in Japanese could mean change, harmony or joy.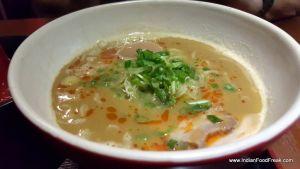 Serving Japanese cuisine, the no-nonsense restaurant dished up some really fantastic food
. Kuuraku Ramen
was spectacularly tasty, the chicken broth rich with nicely done noodles, slices of pork and chopped green onions for adornment. It was served with fried rice and a crunchy sauce made of browned fried onions. A complete meal by itself.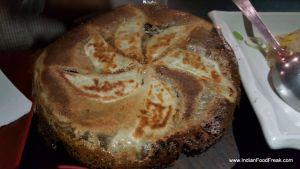 Yakitori Don grilled chicken came resting on thick Tare flavoured sticky rice and garnished with fried seaweed. Mixing diced grilled chicken with chicken mince balls, both highly appealing to Indian taste buds, played upon the texture, expertly. Chahan Gyoza had interestingly served pan-seared chicken dimsum- they came seared on a hot plate in a flower-like pattern. Delightful. The sticky rice served with it was dotted with crispy slices of pork sausage. Both the dishes were accompanied by fresh, crispy lettuce and a small bowl of miso soup. Though we did not order it, only one sushi roll was on the menu- Maharaja Sushi roll made up of Prawn tempura. Chilled Green tea was served as welcome drink.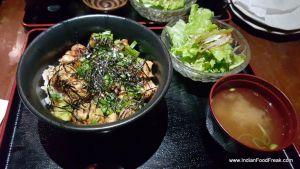 Last lunch order is taken at 2.15 pm. The décor of the small but cozy restaurant is basic, bamboo and wood predominant, with an open kitchen to one side. Seating is around a couple of tables set apart by thoughtfully hung bamboo mats, or at the counter itself. Lunch is served set menu style, each menu a complete meal by itself. Service is quick and efficient. Catering to predominantly office goers catching a quick lunch, the dishes are being served in half or full portions.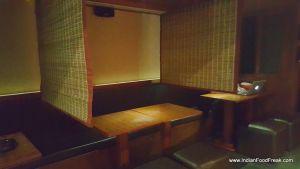 Having developed a taste only not too far in the distant past for the subtle flavours and elegant nuances of Japanese cuisine, I checked with a Japanese neighbor and was assured that
Kuuraku
has tried to stay true to its cuisine's provenance.
Kuuraku
is not a place to linger or catch up with friends. It is but a hearth, which warms the cockles of the heart with its wholesome food.
Ratings (Out of 5)
Food: 4.0 | Service: 4.0 | Ambience: 3.5 | Overall: 4.0
Category: Specialty Restaurant, casual / Japanese
Address: Kuuraku, GF, Global Foyer (Mercedes Showroom building), Golf Course Road
DLF Phase 5, Gurgaon | Tel: +91 9911895656/ 9818055080
Timings: Restaurant: 12.00-2.30 pm; 06.00-10.00 pm
Meal for two without alcohol: Rs1500/++ | Alcohol: yes | Credit Card: Yes | Wheel Chair friendly: Yes
(Disclosure: This review was done after an anonymous visit to the restaurant with the food paid for by the reviewer in full)