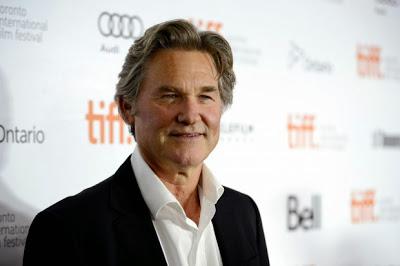 KURT RUSSELL TEACHES US THE ART OF THE STEAL
By Alex Simon
If you're a guy of a certain age (think Gen X), Kurt Russell was that actor you discovered as a child who wasn't just a familiar face on the big and small screen, he was your buddy you grew up with. Not a peer, necessarily, but the cool, slightly older kid who lived next door who you just knew, if you played your cards right, you might grow up to be: handsome, self-assured in sports, with girls and in your place on the planet. Especially if you could hang out with him on a regular basis and learn the tricks to his magic, and magic was something Kurt Russell had from the beginning.
The son of the late actor Bing Russell, best remembered as Deputy Sheriff Clem Foster on Bonanza, Kurt literally grew up on a soundstage, watching his father brandish six-guns in a series of western movies and television shows. Since making his acting debut on TV in 1961, Russell has literally not stopped working, allowing his fans the rare privilege of watching him grow up before their eyes, from the tyke who kicked Elvis Presley's shins in It Happened at the World's Fair, to the star of countless Disney movies and TV specials, the most iconic being teen inventor Dexter Riley in a trilogy of films (The Computer Wore Tennis Shoes, Now You See Him Now You Don't, The Strongest Man in the World) that were box office hits and later found a long shelf life on television.
When his tenure as a child star ended, Russell focused on his primary passion: baseball, playing minor league ball (second base) for the California Angels' AA team. Russell was hitting .563 in 1973, and looked like he might be going to "the show," but a torn shoulder muscle ended his baseball career the same year. To keep his acting chops fresh, Russell decided to turn his fresh-faced, all-American boy image on its head with the 1975 tele-film The Deadly Tower, in which he played infamous sniper Charles Whitman, who in 1966 barricaded himself in a tower at University of Texas. An ex-Marine, Whitman killed over a dozen people, and wounded more than double that number. The movie was a critical smash and Kurt Russell was suddenly an actor to be reckoned with, a status that was cemented four years later with his portrayal of the titular character in John Carpenter's TV movie Elvis. Russell and Carpenter went on to collaborate on a series of films that have all grown into cult classics: Escape From New York, The Thing, Big Trouble in Little China and Escape from L.A. (which Russell also wrote).
Kurt Russell marks his fifty-third year in the biz with The Art of the Steal, playing Crunch Calhoun, a washed up motorcycle daredevil and semi-reformed thief who agrees to one final score with his ne'er do-well younger brother (Matt Dillon). The Radius TWC release also stars Terence Stamp, Jay Baruchel, Katheryn Winnick, Chris Diamantopoulos, Kenneth Welsh, and Jason Jones. It is currently available on VOD and hits theaters March 12.
Kurt Russell sat down with Alex Simon recently to discuss his past, present and future. Here's what transpired:
This film is an interesting departure for you. Your character, from your own description, isn't the "alpha dog" of the crew, and you've always played the alpha in the past.
Kurt Russell: Yeah, he almost seems inept in some ways. And that's the only thing that makes the movie work. He portends to want to be the alpha dog and, in fact, knows that by doing that, by playing up that weakness, is the only way he can win. It's always hard to talk about these kinds of movies because of the ending. When you do, you end up giving away too much. I must say that I enjoyed playing that character and the way the movie is written as "con men/art heist/sting movie." Because ultimately that's what it is, The Sting. And the audience is involved and there is a moment where they could stop the film, the audience could walk out and say "Okay, we're at a crucial point in the movie. You all watched it. Who do you think is doing what do whom?" I love that, because it does ask for the audience's involvement. The key is, you've got to do it quickly, because if you allow the audience to think about it too long, they'll lose their minds trying to fit all the pieces together. So it appealed to me for all those reasons, plus I thought the character of Crunch had a lot of different sides to him that would be fun to play.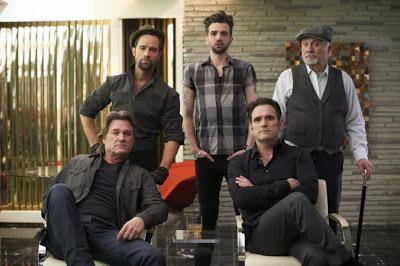 L to R: Kurt Russell, Chris Diamantopoulos, Jay Baruchel, Kenneth Welsh, Matt Dillon in The Art of the Steal.
You got to work with the great Terence Stamp for the first time on this.
Oh man, he was great. We got to do two scenes together. There's something mischievous about Terence Stamp that just makes me smile every time I think about him. I mean he's fuckin' Colonel Zod, what do you want? (laughs) He's a great raconteur, great storyteller. And he's great in this. He has that sense of deep caring about this character. He cares about how he carries himself, comports himself and trust is something that still means something to him.
Last year marked your fiftieth year in feature films, the first being the Elvis Presley vehicle It Happened at the World's Fair.
Yeah, that was the first feature, but I'd been acting since 1961. It was a television show called Our Man Higgins, which was about a butler, played by Stanley Holloway.
Was it seeing your dad work that piqued your interest in acting?
Yeah, I'd been on lots of sets watching my dad working. All the other fathers were not home during the day, whereas my dad was home a lot during the day. He looked like he was having fun when he went to work. When I went to work with him, everyone else was having a great time. They got to ride horses and shoot guns and fall off their horses and run through windows and, this was a big one, they looked important with women! (laughs) I thought to myself 'Well, what dad does looks pretty good.' There was a man who was involved casting the TV show Dennis the Menace and my dad's agent thought I'd be good for the part. I remember he came over to our house to check me out and I was playing with my two younger sisters. I had gotten into some Vaseline and matted down my hair. My mom saw me and was shocked. She said "Oh no! We've got to get you cleaned up." So I met the guy and he was very nice and I asked my mom what the big deal was. She said "He might want to cast you in a TV show." So that's where it really started. I wasn't an actor up till that point. And I did an episode of Dennis the Menace later on, but not that year. So it's been fifty-three years now.
You really cut your teeth at Disney, where you worked for a decade.
Yeah, I started there at thirteen.

Russell as science wiz Dexter Riley, in The Strongest Man in the World (1975).
How well did you get to know Walt?
I got to know him pretty well. We played a lot of Ping-Pong together. He'd come down to the set and visit and took me around the studio, introduced me to the heads of all the different departments. As I got older I spent time with him discussing stories, in general: what makes a story interesting, how structure is very important, for example just before the story ends, things have to be at their worst. That kind of thing. And I watched movies with him.
Did you see Saving Mr. Banks?
Yeah, I did.
I'm sure you heard about all the controversy that came out in terms of how Disney was portrayed: that the character was white-washed, since Walt Disney didn't have the reputation for being as nice as Tom Hanks' portrayal would have you believe.
Well, it all depends upon the way the character is written. I never experienced Walt Disney in any way other than him being like my grandfather. He reminded me of my dad's dad. And I was a little different from the other kids at the studio because I was a baseball player, and he liked that. I was just making money doing movies, and I liked it. But I was just at the beginning of my long journey to play professional baseball and hopefully make it as far as I could, so I never really thought I'd stay an actor. That said, I took acting very seriously, always knew my lines and really went after it. I wanted to do it well. So I never had any reason to see Walt Disney as anything other than what I saw him as: a fun, creative guy who was a joy to work with and was always very good to me. There's three hundred and sixty degrees to everybody, but that said, when you've created something as positive and significant to the world as Walt Disney did, I'm rather uninterested in things like how he wiped his ass.
How true to life was Tom Hanks' portrayal, based on your memories?
I thought Tom did a great job and did some things that brought a lot back for me. Like any good actor though, he did an interpretation, as opposed to an imitation. What I remember about Walt physically were his eyes: they were always sort of half-lidded and he had a way of holding his mouth a certain way. He was always sort of smiling. He had a way about him that was somehow mirthful, but not goofy, ever. He reminded me of my grandfather, who was an inventor and all-around cool guy.

In the mid-70s you did a hundred and eighty degree career reinvention with two TV movies. The one everyone always talks about is John Carpenter's Elvis. But what I want to talk about is The Deadly Tower (1975), where you played infamous "all-American" sniper Charles Whitman.
Yeah, you're right about that. That was where the town of Hollywood went "What?!" at my choice of playing that role and my being cast in that role. They use that movie now in law schools, to discuss whether a pre-existing medical condition, in Whitman's case he complained of headaches before he went on his rampage, was grounds for a reduced sentence. When they opened him up, he had benign brain tumors in his head. How old were you when you saw the movie?
I was eight in '75 and I won't lie: that movie fucked me up. I saw the ad for it in TV Guide and thought to myself 'Cool, a new Kurt Russell movie!' I thought I was going to watch Dexter Riley invent some super solvent that sent him to the moon, and instead watched you gun down half of Austin, TX.
What was an eight year-old doing watching that movie? Where were your parents?
They were out. I had a babysitter.
And where was she?
Well, in 1975, probably out back smoking weed with her boyfriend.
(laughs) Yeah, okay. Eight was way too young for you to see that. It was intense. But anyway, I knew about the malignant tumors so I tried to include that in the performance. It was also the first time I really brought my own ideas into how to play a character. I said to Jerry Jameson, the director, 'I think the more you hear this guy, the less interesting he becomes. I think you should hear him order his bullets, talk to his mother, and that's about it. All the rest, for him, is a silent movie.' My agents were worried about it being bad for my career and that was also the point where I realized 'I'm gonna have to do things my way, because the people who've been in charge of my career up to now are not gonna want to do things the way I want to.' And it was just a couple years later when I did Elvis. I was living in Colorado, and my agent mentioned offhand that Joyce Selznick was doing this thing about Elvis Presley. I jumped at it. And my agent said "Are you kidding? You think you can play Elvis?" I thought, wow, thanks for the vote of confidence! (laughs) That was a great start, right? And I ended up doing it and it was a game changer and I realized again, it was time to stop playing the mom and pop game and actually get into the business.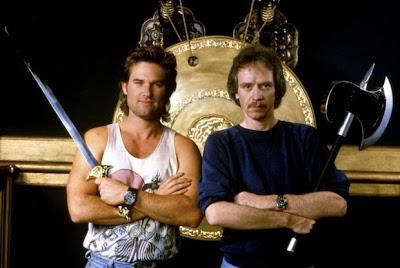 John Carpenter and you always struck me as one of Hollywood's greatest creative teams. Every movie you guys did together is one of my favorites.
Thank you. I love working with John. He is a heralded filmmaker but he's also very underrated, in my opinion. I've always felt people don't quite understand what he does. He's funny. He sees the world differently, and I'll always love working with him.
Is that going to happen again anytime soon?
I don't know. I sure hope we get one more opportunity, at least. I read something recently that had another director attached where I said 'If John Carpenter were directing this, I might be interested in doing it.' I'd like to do something that's just really off-kilter with him. I'm glad you liked the stuff we did, because I sure loved making them.
And they've all had this amazing second life on home video. If anything, the films are far more acclaimed now than they were upon their first release.
Yeah, VHS and DVD really gave all of them a second life. It does take time sometimes for an audience to catch up to a movie. And critics, too, for that matter.