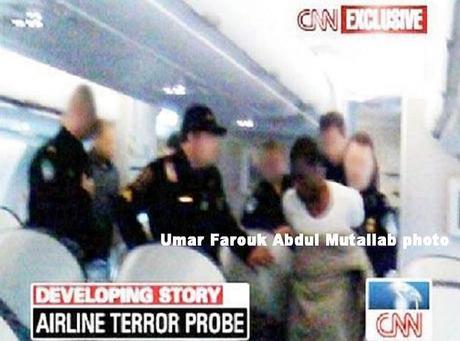 three personal updates from the back end of 2011 and into early 2012, in case you thought the furore over the Underwear Bomber had gone away.
Kurt Haskell
was the 'legal guy' how says he was on Northwest Airlines Flight 253 flight out of Schipol Airport NL on Xmas day 2009 and testifies that (passportless)
Umar Farouk Abdulmutallab
"THE UNDERWEAR BOMBER" was helped onto an  by an African-looking 'smartly dressed man'.
first update: Oct 2011
Trial for the Underwear Bomber started this week, on Tuesday. Since neither Kurt or I had been contacted about being witnesses or being sequestered from the courtroom, we decided to head down to the trial in the hopes of being able to observe. Seats were reserved for all victims, and we really wanted to be there as much as possible. When going through security on the first floor of the court, we ran into someone who works for Anthony Chambers, who told us a pre-trial Motion had been filed that morning to exclude Kurt and I from being in the courtroom for the trial as we may be potential witnesses.
second update: Dec 2011
It has now been two years since the Underwear Bomber attack. Once again, Lori and I find ourselves reflecting during the holidays about what happened on Flight 253. The attack, which comprised only two minutes of our lives, continues to shape our thoughts and beliefs. Although the criminal case has ended (except for sentencing which will happen in January 2012), the laws of Michigan allow for a two year period statute of limitations in order for the injured to bring a civil lawsuit.
third update: Jan 2012
Although the underwear bomber trial concluded in October with a plea deal, Umar filed a motion on December 12, 2011 to replace stand-by attorney Chambers. This motion is too little too late since the only matter left in the case is sentencing, which will occur on January 19, 2012.
I really like the capitalised phrase "NOBODY ON EARTH TAKES A PLEA SO THAT THEY CAN NEVER GET OUT OF PRISON!" in that third update.
And still, what's this whole episode REALLY been about?
I mean, though the whole episode might look clumsy and staged to anyone with an iota of common sense, "What's this event really been about?"