Kulfa Aloo Ki sabzi- A simple healthy and delicious dry curry made with purslane leaves and potatoes
Kulfa /Purslane is a leafy vegetables which is very easy to cultivate . Kulfa is also considered as a weed in some part of India, it grows in summer to monsoon season. Though Kulfa is grown in all parts of the world but is specially popular in India, Pakistan and the Mediterranean countries and is an annual succulent .
Kulfa leaves are quite thicker and roundish, slightly sour and earthy in taste. The leaves and the stems both are edible so no need to discard the stems,chop them fine and add in your curries and lentils. It has cooling properties so very good to use during summer. Kulfa is popular in other parts of India with different names- Noni bhaji, Lunia, Nonia saag, Pachiri, Ghol, Goli kura, lunak,khorfeh etc
Purslane/kulfa is a very nutritious plant .It is very high in omega 3 Fatty acids, Iron , Magnesium, calcium, potassium, Vitamin A,B,C. It is low in calories and rich in fiber thus helps in reducing body weight. It also helps to treat diarrhea, dysentery , urine infection and intestinal bleeding. It also have high levels of Vitamin A and C which helps to cure Lung and oral cancer.Protect bones from osteoporosis.Helps to improve vision,improves blood circulation. So a very healthy green to use through out the season for the overall health of our body.
Kulfa has very mild sour taste so best to use for making make curries and stir fries. I learned this Kulfa Chana Daal Kadi from my grand mother,which taste awesome with steamed rice. This Kulfa aloo ki sabzi is a semi dry curry and can be enjoyed with roti or rice.
Wash the kulfa well to remove all the dirt and then just chop off the bottom 1/4 inch of the stems and use the rest of stems and leaves,no need to discard the stems as they are very healthy and edible.
Also Try making these green and potato preparations from my blog-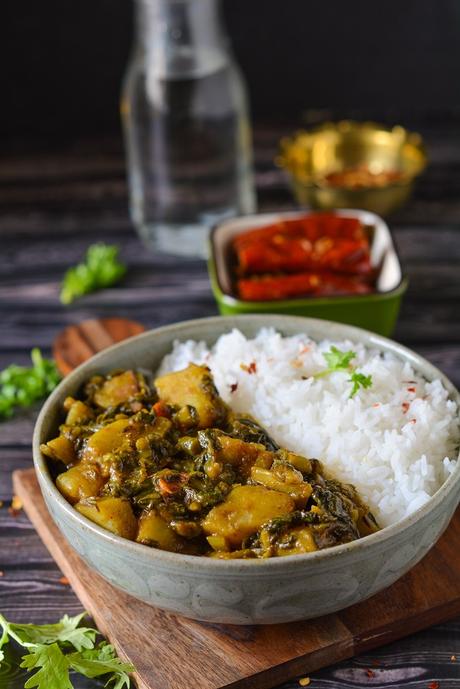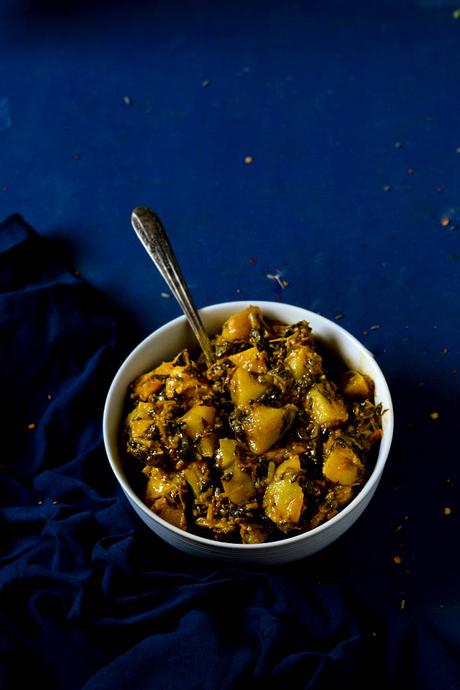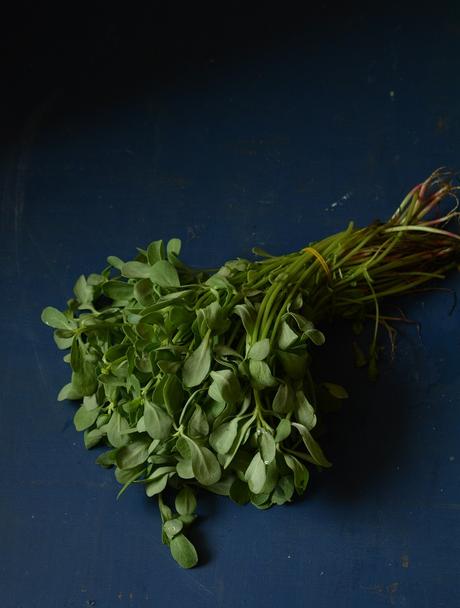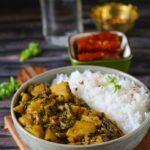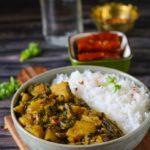 Kulfa Aloo Ki sabzi- A simple healthy and delicious dry curry made with purslane leaves and potatoes
Servings
Prep Time
5 person
15 minutes
Servings
Prep Time
5 person
15 minutes