One of my favorite snack is Kueh Tutu 嘟嘟糕.  I have attempted it before in here and till now, I am still seeking for THE recipe.  
Spotted AL attempted it and hers yield a higher water ratio than the one I tried.  Somehow all recipes available are based on 1 cup rice flour.  The variable is the water ratio.  This time, it is based on 90ml.  
Thanks AL for sharing.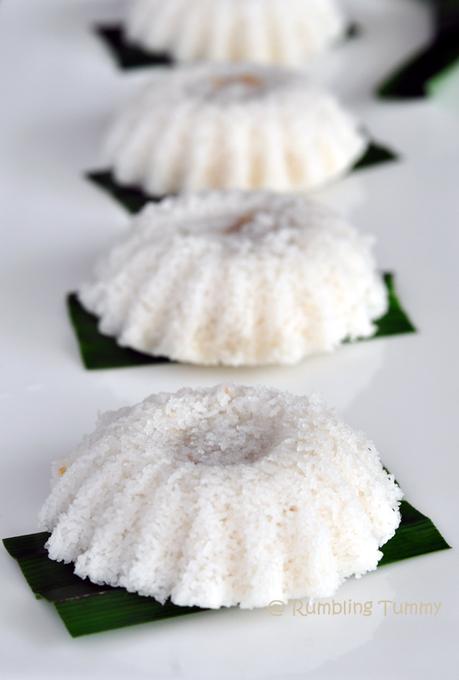 Findings: I did not fry the rice flour over the wok, instead, I used back the same method as my first attempt.
The crack rate for this is zero but somehow the tutu came out chewy which I don't know why.  Also the texture, as you can see, is not as fine as those store bought or even the one I attempted before.
I perhaps had over handle the flour?   Will the brand of rice flour matters?  or is the sieve of wrong fine-ness? 
I will definitely try this again for I think the fault lies in me.
What you need:
yield: 12 pcs

Fillings
75g gula Melaka, finely chopped
Grated coconut
¼ tsp salt
In a frying pan, add gula Melaka and simmer, stir until melted.
Add in grated coconut and salt.  Mix well.  Set aside to cool.
Tutu
1 cup rice flour
90ml water
½ tsp salt
Method:
Place rice flour on a plate and microwave it for 1½ min.
Sprinkle water using the fork, coating evenly.
Press flour through a sieve.
Place flour onto mold half way and add peanut and layer with another layer of flour.
Put a pandan leave
Cover with cloth and steam on high for 12 mins.

If you are interested in the mold, I bought mine many years ago in Ailin (Tanjong Katong Shopping Centre) but it is also available in Sun Lik (which is more expensive). 
If you have enjoyed this post by Rumbling Tummy, be sure to follow this Rumbling Tummy on
Facebook
, Instagram,
Pinterest
, Twitter and
Google+
.