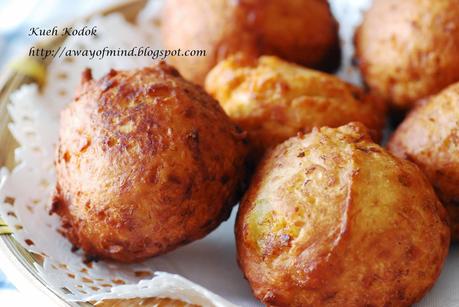 今天趁儿子上课,弄了一道很棒的娘惹糕点。如你吃腻了香蕉蛋糕,那把剩余的香蕉弄这道炸香蕉丸是很好的选择。我把原食谱变动了因为我只有400克的香蕉,也加了一茶匙的粘米粉。成品是内软外脆的,我家人都很喜欢。记得这道
糕点是不加水的,那炸出来的
糕点型状才会包满。
Finally squeeze out some time to try a new recipe, this deep fried banana balls (kueh kodok or Jemput Jemput Pisang) is a traditional nyonya kueh. If you are tired of using your left over banana for banana cake, this kueh kodok is a good option. I have modified a bit from the original recipe because I just have 400g of banana and I added one teaspoon of rice flour into the batter. The end result is lovely, I like its a bit crisp crust with sweet soft inner. No water added to the batter, just use the mash ripe banana to combine well with the flour, I let my batter rest for 15 mins before deep fried! 
Recipe refer to The Nyonya Love cookbook by Ricky Ng with changes.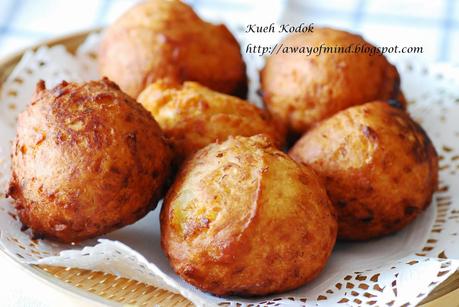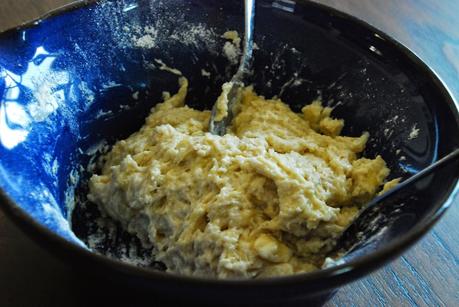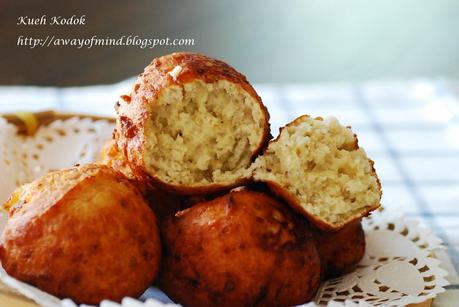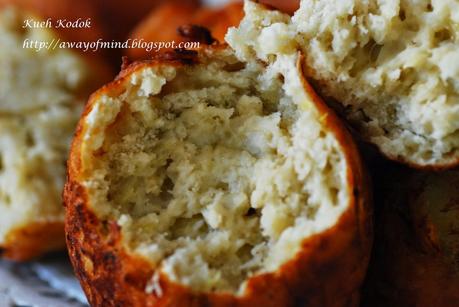 Ingredients:

170g plain flour




1/2 tsp baking powder




a pinch of salt




1 tsp rice flour




400g ripe banana (peeled and mashed)




80g sugar (optional as depends on the sweetness from the banana you use)




Method:

1. In a bowl, mash the ripe banana ad combine well with the rest of the ingredients.

2. Let the batter rest for 15 mins.

3. Use an ice-cream scoop, scoop a spoonful of batter and deep fry in a medium hot oil till golden brown. Use a chopstick to keep pressing and turning the banana ball while you are frying, this will help the banana ball to puff up nicely. Place the banana balls on a kitchen tissue to drain away oil before serve.