Over last weekend, I was invited to a gathering from a very first forum group that I joined after I became a stay home mom.  It was a long time friendship and am happy that we still remain so.
That afternoon, the company was delightful and the food, needless to say, the food that was cooked by T's hub, was super sedap.   One of the dessert served, I was totally unfamilar with it.  I have never eaten Kueh Getas and I don't recall seeing this being sold too.
Geesh.... I must tell you that it was seriously addictive and my friends who were there shared the same view too.  I don't want to count how many servings I had that afternoon!
I google and found one recipe that was very popular.  Then again, it was a translated copy and I am not very sure about one component.
Nevertheless, decided to give this a try.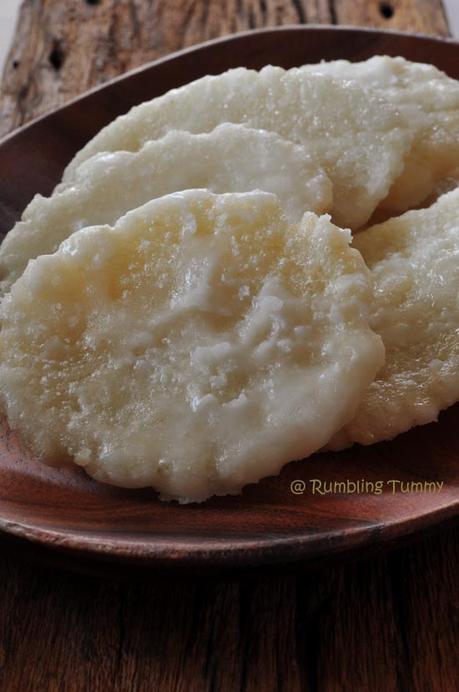 Findings: Mine turned out "white" unlike the one that I ate.  It was golden brown.  The texture is kind of the same but I find mine way too sweet.
If I have any Malay readers out there who knows how to make these, hope you can share with me on this.  Terima Kasih!
What you need:
125g glutinous rice flour
10g rice flour
80g grated young coconut
65ml - 70ml water (I used 80ml water)
pinch of salt
Method:
Mix all the dry ingredients together.
Slowly add in the water and mix until a dough is form.
Shape into an oval and flatten it.  Not too thick.
Heat oil and deep fry until golden brown.  Set aside. (I was not able to achieve the golden hue)
Sugar coating
What you need:
150g sugar
75ml water
Method:
Using a med size non sticky pan/wok, cook the sugar and water until sugar dissolved.  Do not stir.
Continue to cook until it bubbly and thick.  Lift the spoon and if the syrup has a long strand, it is ready.
Add in the fried rice cake, mix well and keep mixing until the sugar is dry. 
Ready to serve.
If you have enjoyed this post by Rumbling Tummy, be sure to follow this Rumbling Tummy on Facebook, Instagram, Pinterest, Twitter and Google+.