Kuchina Vogue - An Auto Clean Chimney Review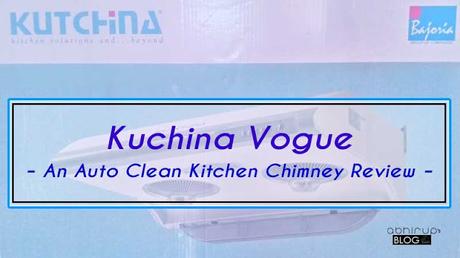 Not only does cooking oil affects our healthy lifestyle if not known how to control it in food, it does also untidy our good looking modular kitchen or your mom's favorite workplace.So, it is now a common practice in almost many kitchens to install a Kitchen Chimney.Well, it may seem a luxury a few years back but if asked to now-a-day homemakers, they say it's a necessity.Well, let's share an experience as I go into the header topic,Half a decades back we also had a choice to install a Kitchen Chimney to gift my mother a comfortable cooking experience.But things didn't work as we wished for, thanks to the worthless product by Ultrafresh, along with it semi-functional operating parts and even worst is theirs after sale service commitment (the irregular annual maintenance to name one). Ever since we had a negative notion on kitchen chimney, which is most obvious, isn't it !
This time, when we got our 1st floor renovated with modern wall paint after a little bit of remodelling here n there, it was really necessary to give my mom's newly looking rasoi an ornamental touch, and without a chimney it was incomplete.Being fooled by the last product it seemed hard to make a choice, my close friend gave me a phone number of a person, telling,
if you can't trust a brand, you can definitely trust him who I believe will help you to make a deal.
He came down to my place after I call him. He seemed trustworthy, and unlike the earlier sales person.He first evaluated the space where it should be installed, 

and finally suggested his choice based on our requirement and style mentioned to him before, 

he said Kutchina Vogue - an auto clean technology chimney will be a befitting option and based on the below-mentioned reason we made the deal:

Why did we choose Kuchina Vogue Auto Chimney? :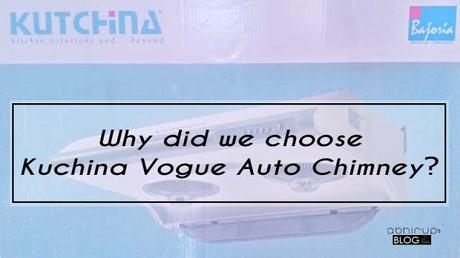 1.

  

As the name says, it's powered by an auto oil clean technology, and who at this age love hassle, tell me; so this best option I can offer to my mother and she loved it. It is powered by Third Generation Auto Dry Clean Technology. As I said auto clean, it also has the oil collectors, two rounded at the suction zones and another one rear at the wall mount end and look great in a transparent fiber finish.


2.

  It looks great in white and silver. The sturdy get up along with the design and the choice of color pleased my

mom

on the first place this is one of the reasons I was more interested.


3.

  After using it for these days my mom is quite convinced about the oil and smoke suction ability (with a suction of 1000m3/hr), which was the down point of our earlier chimney.




4.

  It has a pretty cool looking diffuser lamp of illumination - 1x40W. A very useful add-on for an emergency.




5.

  The installation done on the wall is neat, even though the installer asked for a little costlier smoke nozzle with the aluminum finish but it worth paying to a lasting look n feel.


6.

  The brand Kutchina is on the picture and on TVC often, so it's not difficult to recall and we all have it at least for once and over to that it also offers a lifetime warranty.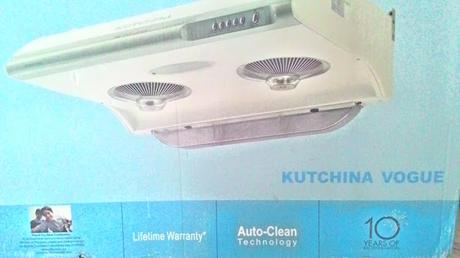 7.

  Kutchina auto clean chimneys by

bajoria

appliance were first of it's kind to brand itself and been it this business for more than 10 years so I think the chance of doubt go minimal.




8.

  The model Kutchina Vogue interestingly fits into the

rasoi

even better than we thought.




9.  

Most importantly the commitment of post delivery service which includes annual maintenance(on-site visit service, although the first year fee inclusive with the product cost but from next year an annual maintenance fee is levied).

This is something which the time will say, and I will definitely update this post after a year of post-service evaluation.

Kuchina Vogue Kitchen Chimney - Technical Features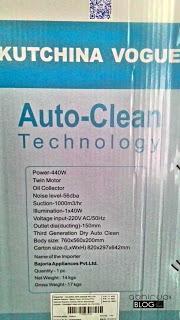 Apart these the overall performance is good and I hope it will do justice to Kutchina tagline kitchen solutions and ... beyond.
How did you like this journal?If you find it useful and valuable please do share it to your circles and to those who need them most, help others with information.I am willing to hear similar stories or reviews from your personal experience, feel free to drop in those in the COMMENT BOX below.