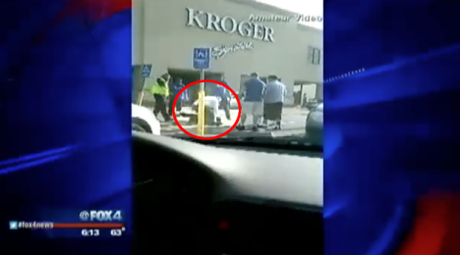 Image from news.yahoo.com
If you worked at a chain store and saw a knife wielding shoplifter, what would you do? …Well what ever you'd choose to do, if you'd like to continue working at that chain store, I suggest you do not confront the suspect. In Arlington, Texas, Fox 4 News reports of a Kroger store manager going one-on-one with a suspected shoplifter armed with a knife.
In a video, taped on a bystander's mobile device, we see the manager approach the suspect, then shove him into a parked car. He then disarms the shoplifter of his knife and moments later, slams him to the ground. After the incident, the manager was then fired from his job.
The former store manager will remain unnamed, but Arlington police identify the alleged shoplifter as 51 year-old, Claude Medlock, who is infamous for his "lengthy criminal history that includes theft and robbery." Medlock is now in jail charged for aggravated robbery.
Kroger released a statement to Fox 4, which goes as follows, " The incident…is not a reflection of our company's fraud prevention protocol, procedures, or training…He is no longer employed by our company."
As noble as his intentions were, it was not enough for the store manager to keep his job. There is room for debate on whether he deserved to be fired, but in the end he stands by his actions, and telsl Fox 4 that, "he's worked in loss prevention for 13 years and felt he handled the situation properly."
Watch the entire Fox 4 report below.