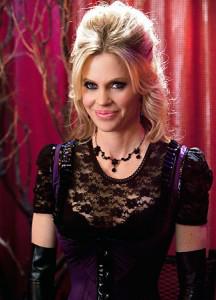 While at HBO and HSN's Forsaken launch party at the end of July, hostess Kristin Bauer van Straten talked with InStyle about her character, Pamela Sywnford de Beaufort's own style. The character is known for her fashion sense in addition to her fantastic one-liners and according to the actress who plays her the costume fittings are pretty spectacular:
"You get the script, and you have these pretty great scenes—these crazy scenes and dialogue—and then the wardrobe fitting feels like Christmas."
But those fittings couldn't be done without True Blood costume designer Audrey Fisher who is responsible for Pam's wardrobe:
 "[Costume designer] Audrey Fisher is amazing. She brings in a rack of that stuff and I email her and go, 'What do you think we're going to do—what direction? [It's one of two options] Sexy or sexier. You don't do a lot of breathing during the day, but it's fun!"
What do you think of Pam's style Truebies? Sound off in the comments below!
Source: InStyle.com- "True Blood's Kristin Bauer van Straten Loves the "Sexy" Costumes"
Image Credit: HBO, Inc.