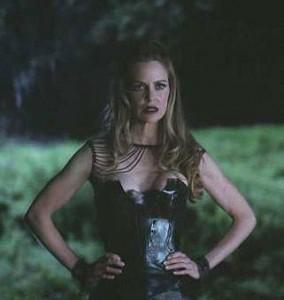 True Blood's Kristin Bauer van Straten has a great role in Pam. I don't think there is anyone who doesn't like her character. Pam's deadpan delivery makes even the less interesting lines she is given seem great, but she has the added benefit that she often gets some of THE BEST lines to say in each episode. Last week we last saw Pam run away in horror because, shall we say she had a "slight skin problem", to put it mildly, so I'm worried about her.
Kristin is also one of the most approachable and friendly persons you want to meet. She has a new interview with TVFanatic below where she discusses some of what we can expect from her character this summer in Season 4.
What can we expect from Pam throughout season?
Shenanigans! And more shenanigans!! The writers were extra creative this year… we will see another side to Pam that is pretty edgy. I loved playing it.
Does Pam get jealous of Eric's relationship with Sookie?
I think Pam feels conflicted with Sookie because she finds her very attractive, but Eric won't share and Eric really does care about Sookie for some reason. As with all great writing, Pam's views on Sookie are complicated and multifaceted.
Do you have an all-time favorite Pam quote?
I never know, to be honest, until the fans report on which ones landed! And also my favorites tend to be the ones freshest in my mind… But I must say I had lots of fun threatening Lafayette) this season with: "I am not a hooker, that was a long, long time ago." Hysterical!
Describe Pam's dream girl.
Good question. Well, she liked "Yvetta", so Pam's type may be just "Hot." At least for a roll in the hay. Who could ever win Pam's heart, though, besides Eric? Since she is a bit confident with who she is, I'll say someone who is [also confident]… and hot.
Which is more challenging, running Fangtasia or remembering your lines in the presence of such attractive co-stars?
[Laughs] Well, you will notice I never hold props. I can only hit my mark in those heals and deliver my lines to these attractive folks. One more task and it'd be too much!
Will Pam ever become someone's Maker? Would you want her to be?
It certainly would be fascinating to see her version of nurturing, wouldn't it? But I am happy to see the scripts come in and unfold and will just keep doing my best at what they throw my way. I have total faith in my many makers: Charlaine, Alan and the writer/producers of True Blood. Whatever I come up with in my head, when I see what they've written, it is much better than I have imagined.
source: tvfanatic.com