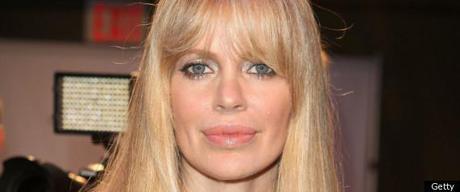 Death was the overarching theme for True Blood's fourth season finale, "And When I Die" when it aired last Sunday. However, one of the most surprising moments of the season was not a death. But rather the realization that fan favorites Eric (Alexander Skarsgård) and Pam were still on the outs; all over a girl named Sookie (Anna Paquin). Pam's portrayer Kristin Bauer van Straten revealed several things including the kind of challenges her character faced in season 4, the state of Pam and Eric's relationship, and what her family thinks about her success in two interviews with the Huffington Post and Metro UK this past week.
Metro UK asked Kristin what she thought of the challenges Pam faced this season and while she did acknowledge that they are trying circumstances, the way the character deals with them only makes her love Pam more:
"…We see the true nature of people when they are really tested. She's a fighter and we are starting to see her humanity. I love that about her. I've started to really fall in love with Pam…It's like the fourth year of a romance. We're getting even closer. It's been a long courtship."
Pam is infamous for her wicked one-liners and her fashion sense. But in season three, audiences were given a glimpse into the relationship between Eric and Pam. Many characterized their relationship as one between father and daughter. But Bauer van Straten says it's not so simple:
"He really is the one rock in her life — the one person she really loves and would do anything for. She would die for Eric. That's it for her. He's her maker. He really is her best friend, her daddy, and they just have such a complicated relationship. And she loves being his lieutenant. She doesn't want to be first-in-command, so when he's not there to be her rock, she doesn't like it. That will definitely come into play when we go into Pam and Eric's pasts next season."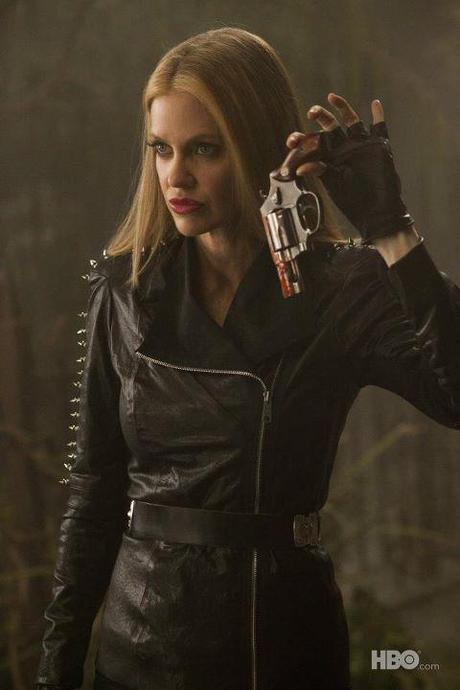 So what was it like having to play someone who not only had to navigate most of the season without their best friend/father/partner and deal with rotting inside and out thanks to a spell cast by a witch named Marnie (Fiona Shaw)?
"I loved seeing a vulnerable side to Pam this season. As an actor, you want to do something new every year and do something deeper, so it was incredibly fun for me to get to see who she was without Eric because he wasn't really there for her this season. And then you take away her looks — her vanity — and I had no idea how she would react. It's the same in real life too. When the sh-t hits the fan, you really discover yourself, and the fact that she becomes a warrior made me love her even more. She could have sat there and cried and felt sorry for herself, but that's not Pam."
If losing her beauty to a rotting spell and her maker to amnesia can't phase Pam, is there anything that can take her down? Yes. Kristin has said in numerous other interviews that Pam won't be threatened by Sookie as long as she doesn't interfere with her relationship with Eric. During "Burning Down the House," it became clear that Eric's relationship with Sookie was already starting to shift his priorities:
"In that scene, she realizes that she'll never have the same relationship with Eric that she once had. There's this incredibly touching scene between Eric and Sookie and then this incredibly touching moment between Eric and Pam, and then you realize that this is a huge issue for both women. Pam has always been number one."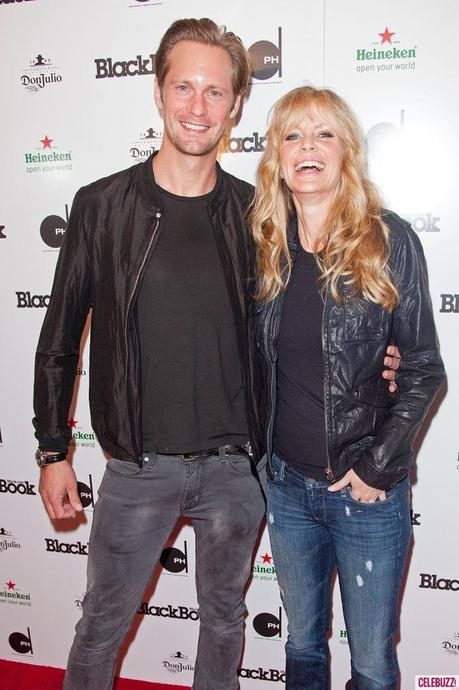 Pam may not be number one in Eric's life any longer. But off-camera, Kristin has a very good relationship with Alexander Skarsgård. The two were photographed along with her husband, Abri van Straten at a Blackbook Magazine party recently smiling and laughing. Of Alexander and her other cast mates, she only has good things to say:
"Speaking for myself, I have total faith and trust and love of Alex. He's a great guy. I've been sitting next to him for four years now and after all of the long nights, the tough scenes and even the easier scenes, we always laugh a lot. He's really funny. That's one thing you don't always see in Eric, but Alex is so funny. I just have a great relationship for the whole group — Anna [Paquin], Stephen [Moyer] (Bill Compton) and Alex. I feel so comfortable with them. They're talented and funny, so I couldn't ask for more."
Kristin and her character Pam are beloved by Truebies everywhere; the proof of which has been seen at events like this year's Paley Festival, Comic Con, and Dragon Con. But Metro UK wanted to know how her family feels about her success. She revealed that they are happy for her, even if they don't know what it is she does:
"My mother is the only one in my entire family who can handle True Blood. She's 70 and thinks it's fun. My sister still fast-forwards through that first part of The Lion King when the lion dies. So they can't handle it. Every year my brother says: 'I'm going to watch it this year' then… nothing. But the sweet thing about my family is that, to them, I had made it as soon as I got my first line on a TV show…I took them on the Universal Studios back lot tour and they asked if I'd ever been on a sound stage. I said: 'What do you people think I do for a living?"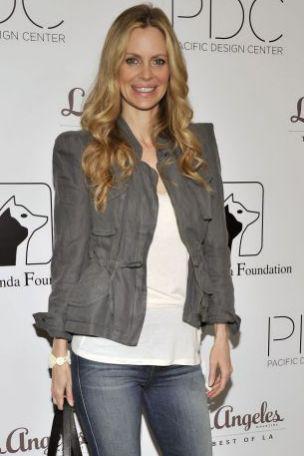 At the end of the interview, Metro asked if Bauer van Straten had ever faced the casting couch during the course of her career. She hadn't and ultimately, she wasn't sure if something like that was worth the price:
"I looked for that route but never found it. Where the heck was that route? People would say: 'Oh that girl slept her way to the top' and I'd ask: 'Who, how, where?' I was having sex with people, just the wrong people apparently, because that was never an opportunity for me. I can't say I wouldn't have welcomed it although I don't think it always pays off. I met one girl who slept with Steven Seagal but she only got to be a corpse in the movie."
For Kristin, a regular audition seemed to work out just fine! In four seasons, she's managed to go from reoccuring player to series regular and made what could have been a minor supporting role into a character who beloved worldwide.
To read the interviews in their entirety click here or here.
Sources: Huffington Post.com- "Kristin Bauer Interview: True Blood Co-Star Talks Season Finale, Sexy Co-Stars, and Pam's Future"
Metro UK- "Kristin Bauer: My 70 year-old Mum Thinks True Blood is Fun"
Image Credits: Getty Images and HBO, Inc.