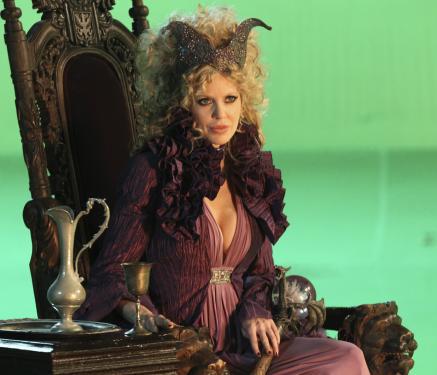 Will Kristin Bauer van Straten (Pamela Sywnford de Beaufort) ever return to fairy tale land? Ever since her all too brief appearance on the freshman drama in October, fans of Once Upon a Time and of the actress alike have been wondering the exact same thing.
During the show's panel at PaleyFest 2012 today, co- creator Edward Kitsis addressed the subject when a fan asked about Malecifient during the Q&A portion:
"I think it'd be disappointing if we never saw her again."
Something tells me that Kristin might be making another appearence sooner rather than later. But as to whether it'll be before shooting wraps for the season, episode 20 is currently in production, we'll have to see. Season 2 maybe?
Until then however, we can look forward to seeing Kristin return as Pam when True Blood returns for season 5 in June.
Source: EW.com-'Once Upon a Time' scoop: Who's headed to therapy? How wicked is the Evil Queen's mother? And who might return?"
Image Credit: ABC