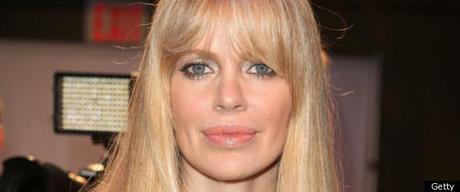 Kristin Bauer van Straten first endeared herself to fans of True Blood for her portrayal of dry-humored vampire Pamela Sywnford de Beaufort. Three years later however, she is just as beloved for what she fights for offscreen. A tireless advocate for animal rights, Kristin has recently started a petition on Change.org to protect captive chimpanzees in the United States.
According to the press release put out by Change, chimpanzees in captivity are not protected by the Endangered Species act like their wild counterparts. As a result of this, chimps in captivity are subjected to numerous injustices; being exploited for the purposes of entertainment, painful and unnecessary labratory experiments and more. At present a proposal is being considered to extend the protections of the Endangered Species Act. But public comments on said proposal end on October 31st which makes the campaign Kristin has launched in conjunction with the Physicians for Responsible Medicine (PCRM) all the more important.
So that is why Kristin, PCRM, and Change.org have turned to us; the fans of True Blood to help. Because of Kristin Bauer many fans, including myself, have learned how much suffering this animals have endured for something they did not choose. As of this posting, over 1,200 signatures of 1,500 have already been received. But it is important that public concerns on this issue be heard loud and clear.
The press release from Change.org can be found below for more information. If you are interested in signing, you may do so here.
***PRESS RELEASE***

'TRUE BLOOD' STAR LAUNCHES CAMPAIGN TO PROTECT CAPTIVE CHIMPANZEES

Kristin Bauer and Physicians Committee for Responsible Medicine launch campaign on Change.org asking U.S. Fish and Wildlife Service to extend endangered species protections to captive chimpanzees.

WASHINGTON, DC – Actress Kristin Bauer, who plays Pam on HBO's True Blood, has launched a campaign on Change.org with the Physicians Committee for Responsible Medicine urging the U.S. Fish and Wildlife Service to protect captive chimpanzees.

Bauer's online campaign asks the U.S. Fish and Wildlife Service to extend the endangered species protections currently given to wild chimpanzees to captive chimpanzees used in experiments and the entertainment industry and kept as pets in United States.

"I've always been fascinated by the incredible intelligence and rich, complex social lives of chimpanzees," said Bauer. "It would be shameful to see them go extinct in the wild as we continue to exploit them here in the U.S. in invasive experiments, entertainment and as pets"

Bauer cites studies demonstrating that when people see chimpanzees used in commercials and interacting with humans in the media, they are more likely to believe that chimpanzees not only make good pets, but that they are not endangered in the wild.

"The Endangered Species Act should protect all chimpanzees, including those being used in laboratory experiments," said John Pippin, M.D., F.A.C.C., of the Physicians Committee for Responsible Medicine. "No other developed countries allow invasive research on chimpanzees because of ethical and scientific problems with such experiments. The U.S. must do more to protect humankind's closest genetic relatives."

Bauer's campaign is likely to draw national attention to the lack of protections for captive chimpanzees. The actress is encouraging True Blood fans to sign her online petition campaign on Change.org, the world's fastest-growing platform for social change.

"It's really impressive to see Kristin Bauer rally her fans around giving chimpanzees a voice," said Change.org Director of Organizing Stephanie Feldstein. "Through her campaign on Change.org, Kristin's fans can take action on a cause that's important to them. Change.org empowers anyone, anywhere to start a campaign on issues that matter to them, and it's been incredible to watch this campaign take off."

A proposal to extend protections to captive chimpanzees is currently under consideration by the U.S. Fish and Wildlife Service. The public comment period for the proposal ends October 31.
I've signed. Please take a moment to do the same here.
Source: Change.org- "US Fish and Wildlife Service: Protect All Chimpanzees"
Image Credit: Getty Images