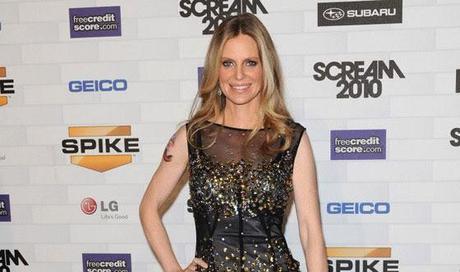 Recently, Kristin Bauer van Straten who plays the always cool and fashion conscious vampire Pamela De Beaufort sat down with TV Fanatic for an interview to discuss her character. Coming off of what has to be the most gory moment so far this season in I'm Alive and On Fire, TV Fanatic asked Kristin what could possibly come next after Sunday night's scene, how Pam feels about Sookie (Anna Paquin) and who Pam's ideal woman would be.
Of what we can expect to see this season from Pam, Kristin says there are shenanigans and more shenanigans to come for her character. With her maker Eric (Alexander Skarsgård) having no clue who he is,  Pam has no choice but to turn to Sookie for help. It was made clear in seasons past that Eric has an interest in the telepath and therefore so does Pam. But how doe she feel about her?
"I think Pam feels conflicted with Sookie because she finds her very attractive, but Eric won't share and Eric really does care about Sookie for some reason. As with all great writing, Pam's views on Sookie are complicated and multifaceted."
So if Pam can't have Sookie, who would be her type? Since she had a fling with Yvetta (Natasha Alum) last season, "hot" would probably be apt. But with her heart belonging to Eric, the chances of her falling for someone else would be difficult to predict. But Bauer van Straten says she suspects her character likes someone hot and just as confident as she is.
Besides being confident and notorious for not filtering, Pam is also known for her wicked one liners and her unforgettable dialog making her one of the most quoted characters on True Blood.  Kristin says she is fond of the little speech she gives about being a hooker to Lafayette (Nelsan Ellis) but never quite knows if she did a line justice until she hears it from the fans. TV Fanatic also couldn't resist asking if working with such attractive co-workers made it difficult to deliver her lines and this is what she had to say:
"Well, you will notice I never hold props. I can only hit my mark in those heals and deliver my lines to these attractive folks. One more task and it'd be too much!"
The interview closed with a question about whether Pam will ever be a maker and if Kristin would like to see that happen. On the topic, she said it certainly would like to see Pam's approach to nurturing a baby vampire of her own. But she says that she's just happy to see the scripts come in and work with what she's given because the writers, producers, Alan Ball, and Charlaine Harris always come up with things that are better than she has imagined.
Pam will be an integral part of this Sunday's episode "Me and the Devil" so be sure not to miss it.
True Blood Fan Source would like to thank Jackie Adams of TV Fanatic for allowing us to post this article. TBFS is always looking for articles to post. If you have something you would like to submit to us, please email us.
Source: TVFanatic.com- "True Blood Exclusive: Kristin Bauer van Straten on Shenanigans to Come!"
Image Credit: Bauer-Griffin