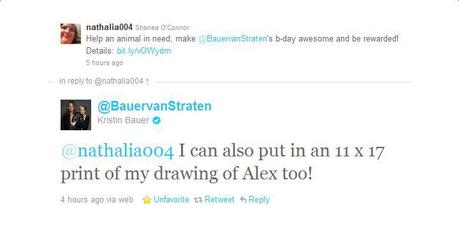 Just two weeks remain in our Kristin Bauer van Straten birthday charity fundraiser! For those who might not know,  True Blood Fan Source has been collecting donations for the Amanda Foundation in collaboration with several True Blood fan sites. The goal of the fundraiser initially was to raise $5000 for the Los Angeles based animal rescue organization. However, the goal has been adjusted to $1000. As of this posting, fans have donated $550 so I know that $1000 is definitely possible!
All of the money collected through Kristin's birthday on November 26th at 11:59PST will be given to the Amanda Foundation as one large donation in Kristin's name for her birthday.
For every $10 that is donated, people will receive one entry into our giveaway and for every $20 that is donated, they'll get three chances. We're giving away some very cool prizes and Kristin herself has just added another prize to make this fundraiser even better! Fans may recall that Kristin did a drawing of her co-star Alexander Skarsgård (Eric Northman) last year to benefit the Amanda Foundation. Today she tweeted me offering to add a print of this awesome drawing to the giveaway and I whole heartedly accepted!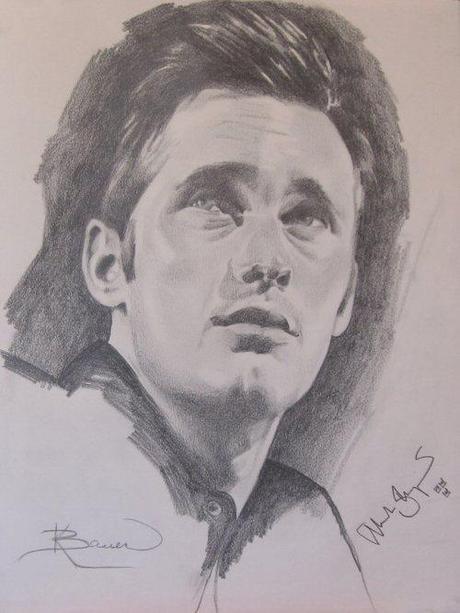 So the list of prizes now includes:
*Signed photos and copies of Abri van Straten's "Sunlight and Shadows" CD donated by Kristin and Abri van Straten for three donors
* An 11×17 print of Kristin's drawing of Alexander Skarsgård donated by Kristin for one donor.
* One pair of ReVamp Earbuds from the True Blood by VMODA collection donated by VMODA for one donor.
* One pair of V-80 Headphones  from the True Blood by VMODA collection donated by VMODA for one donor.
*FMCG Manufacturing donated two cases of Tru Blood; one glass and one plastic that will be split up for several donors to share.
*HoneyCat Cosmetics has donated two sets of their vampire beauty products which will consist of a Blood Sudz Shower Gel, Heme Dream Pomegranate Bath Fizzy, and Don't "B" Negative Body Scrub for two donors.
To see our original announcement, click here.
And don't forget! We're also trying to get Kristin 100,000 followers on Twitter by her birthday. Follow @BauervanStraten now!
So what are you waiting for? Donate to the Amanda Foundation and Celebrate Kristin's Birthday today! All donations are tax deductible.
Image Credit: Kristin Bauer van Straten and Twitter