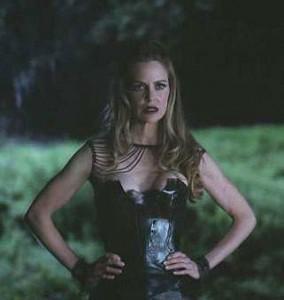 True Blood's Kristin Bauer van Straten is currently making a film in Canada, but she took some time from her busy schedule to answer the questions sent by the fans to ericnorthman.net.
A portion of the Q&A with Kristin is below:
EN.net: Can you say a little bit about Pam's unwilling betrayal of Eric in episode 5? A lot of fans found that very out of character for her, but she's only "human," after all.
Kristin: Yes, very out of character. We just saw her willing to die for Eric for a season. I had to think her betrayal was just a simple mistake brought on by being so stressed by her situation from the spell but also by the stress of what to do when Eric isn't there to strategize "what to do" for her. And then we see in the following scene with Eric in the dungeon that she was devastated by her mistake.
EN.net: Is there a funny filming moment from season four that you can share with us? Did Alex tease you about that zombie makeup?
Kristin: He didn't. That makeup was hard to find funny in that it was as real looking in person. But after you see the rest of the season I can tell you about one time I was teased, by the whole set really. It was a much needed laugh during a long night shoot.
Stella: What kinds of things do you think Pam would do if she got drunk on fairy blood?
Kristin: Go shopping during the day? I don't know…I guess this is why we have such great writers, they'd come up with something hysterical and character revealing.
Jacinta: Eric as Pam's maker has a strong bond with her and would do anything to protect her, including die for her. Do you think Pam has it in her to be as protective and selfless for her progeny?
Kristin: Hard to imagine, isn't it? But maybe once she became a Mommy some instinct would kick in…still hard to imagine.
Marinated_n_sin: Was Pam the role that you auditioned for? If so, what made you go for that part? My family and I love Her and Eric religiously!
Kristin: Great, thanks! Yes, that was the only role I was offered to audition for and I jumped at it.
Laura V: Do any of the characters' personalities resemble the actors' true personalities?
Kristin: Not really. I think we all try, or at least I do, to use whatever you can from where you and the character overlap. In fact this happens whether you like it or not as all the character has is your imagination. I have parts of me that can relate to Pam and I am only too happy to channel those. But it seems to me that everyone has major differences from their characters. You build a character, a separate entity.
Bianca: If you could have any Pam outfit, which one would you pick? The red short sparkle mini dress and jacket with spikes were my favs!
Kristin: I love all Pam's outfits! There are a couple I'd wear too. There's another spike jacket coming up that I think I'll have to get.
Laura H: Is there anything special that you would like to see happen for Pam?
Kristin: There's been a lot of talk about an Eric/Pam flashback and I think that'll be great fun to see how this relationship began.
Deanna: Kristin, what is your absolute favorite thing about Pam?
Kristin: Her directness.
To read the rest of this Q&A with Kristin go to: ericnorthman.net