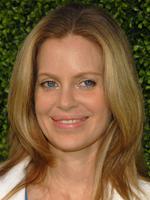 True Blood's Kristin Bauer will attend the Los Angeles Pet Super Adoption at La Brea Tar Pits Park next weekend.
For anybody who's starting to feel a touch of spring fever, there are 1,000 good reasons why you should head over to La Brea Tar Pits Park next weekend! "Love is in Bloom" is the theme for this year's Los Angeles Pet Super Adoption. This time around it's a two-day event. That's right, two full days packed with all the adorable furry faces you can handle. Click on the image below to download the flyer!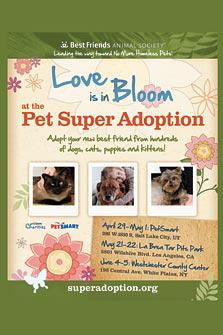 The goal was to have 800 adoptable animals attend the event, yet as the 17 shelters and over 40 rescue groups signed up, one after the other, the tally went way beyond the goal. It now looks as though it will be closer to 1,000 animals. "We picked up a lot more shelters this year," explains Best Friends Los Angeles Programs manager Jen Woodard.
Come May 21 and 22, each one of those animals will be strutting their stuff and doing their best to find that special someone. "We're doing everything we can to draw specific attention to the animals," says Jen.
As part of those efforts, several celebrities have decided to attend in hopes of shining a little extra spotlight on the animals. Some of the attending celebrities will be Harrison Forbes, Amy Smart, Joanna Krupa, Valery Ortiz, Carrie Ann Inaba, Kristin Bauer, Anna Maria Horsford, Patrick Fabian and Julie Marie Berman.
What: Love is in Bloom, Los Angeles Super Pet Adoption
Where: La Brea Tar Pits Park, 5801 Wilshire Blvd., Los Angeles, California
When: May 21 & 22
Find out more about this event and how you can help a homeless animal by clicking on this link: network.bestfriends.org