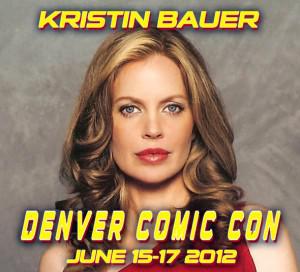 True Blood's Kristin Bauer van Straten will be a guest at the Denver Comic Con and Literary Conference, the Mile High City's first full scale comic and pop culture convention.
The 3 day event will kick off on Father's Day weekend (June 15-17, 2012) with a cast of talent that reads like the who's who of Hollywood Heroes, Sci Fi, and Animation, including; Kristin Bauer (True Blood), Michael Uslan (Exec. Producer – The Dark Knight Rises, The Dark Knight, Batman Begins), Billy West (Futurama, Ren & Stimpy, Looney Tunes), Tom Kane (Star Wars: The Clone Wars, Wolverine and the X-Men, The Powerpuff Girls), Jasika Nicole (FRINGE, She's Out of My League, Take the Lead), Mark Ryan (Transformers), Steven Seagle (Ben 10, Generator Rex, Ultimate Spider-Man), and Greg Weisman (Gargoyles, The Spectacular Spider-Man, Young Justice). Exciting new comic book guests include Eisner Award winner Georges Jeanty (Buffy The Vampire Slayer), Amy Reeder (Batwoman, Madame Xanadu, Fool's Gold), Mike Grell (Green Arrow, Green Lantern, Action Comics), Peter Gross (Unwritten, Lucifer, Book's of Magic), Ethan Nicolle (Axe Cop, Chumble Puzz) and Golden Age artist Allen Bellman (Captain America Comics, The Human Torch, Sub-Mariner Comics) among others.
For ticketing information, hotel discounts and for up-to-date announcements about the convention check out the official website at denvercomiccon.com and comicbookclassroom.org to learn more.