Kristin Bauer van Straten discusses Pam's sexuality and more with Advocate.com.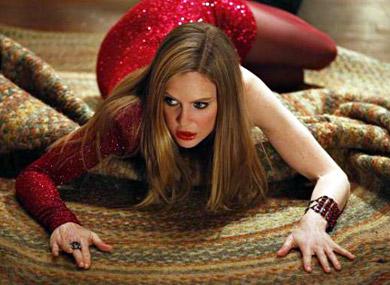 We know from previews that Eric, Pam's maker, has somehow lost his memory at the start of the season. How will that affect Pam?
She's got to take on a leadership role. Also, I've found out this year conclusively that Pam is not a strategist; she's a reactor. Someone's messed with her maker and messed with their relationship — he doesn't remember anything, so he doesn't remember their history or their feelings for each other — so she jumps right in to try to right the situation and make those who did this to him pay. She's not a chess player.
Last season Pam unexpectedly became a motherly mentor to Jessica, the vampire newborn played by Deborah Ann Woll. Will we see that continue this next season?
We do see more of that, and I love their dynamic. It's incredibly fun for me, and Deborah's mentioned how much she loves it too. I also love the incredibly wrong advice that Pam gives her — "Did you call the hypothetical hardware store and buy a theoretical chain saw?" That's so fabulous to me.
Do you think Pam was a bitch as a human, or is her attitude the result of more than a hundred years of suffering fools?
In my head, she came from a time when women had no mobility and no choice. She was looking for a way out and she got it. What I love about her is that she really is the poster child for vampires, because she loves and embraces the entire life, and she's never looked back. Something inside Pam was unleashed when she became a vampire. It's exciting to play someone who's so unapologetic about who they are. On some level, all of us are trying to fit in and to be liked, but she doesn't. That's incredibly refreshing, and I think we could all borrow a little bit from Pam.
According to the books, Pam seems to be something of a late-in-afterlife lesbian who didn't discover her attraction to women until well after she became a vampire. As we head into season 4, how would you describe Pam's sexuality?
Well, it almost feels that way to me — she's been around long enough to figure out what she really likes. She isn't bound by any constraints, so she doesn't try to suppress who she is. In my head, I assume she had some type of relationship with Eric in the beginning, but at this point it feels like she's decided she's gay, and she's been living that life for a while.
I've read various articles that have described Pam as bisexual or omnisexual, but we've really only seen evidence of her attraction to other women — most memorably when she pleasured Yvetta, the Fangtasia stripper, last season.
Right. Sexually, she hasn't shown any interest in men so far. Maybe she'll feed on men because they're food, but they're an appetizer to the main course.
I don't suppose Pam will be settling down into a meaningful, monogamous relationship anytime soon.
I can't imagine it, but wouldn't it be fun and exciting to see the person that could settle Pam down? It would have to be someone who was in no way predictable, boring, or weak.
Read the complete interview here.