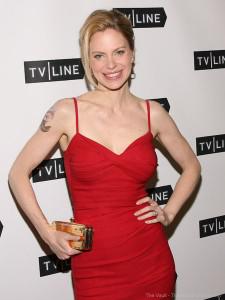 In an interview with SweetenYourWords.com, Kristin Bauer van Straten talks about being Pam on True blood, staying fit, her hubby, Abri and her beliefs on aging, career and the immortal.
Below is part of that interview:
I RELATE TO MY CHARACTER, PAM…… BELIEVE IT OR NOT
Frighteningly, more and more I relate to Pam (laughs). I start going, 'Wow, she's actually making sense to me.' It's fascinating. I feel like, 'Oh my God, this makes total sense if I were a vampire,' so if I were taken out of having to worry about aging, money (they always seem to have money), and also they are out of the constraints of society so they can be any sexuality, which is very fun. Plus, you don't have to worry about death, so without all those issues, who would we be? So much of my life, well, pretty much my entire life, those are the things I think about. That's 95 percent of where my attention goes with those topics. So then who would I be? It's an interesting question
AGING AND MY CAREER
I'm staring at 40, so you should ask me once I get into my 40s, because on one hand I say to myself, 'I'm totally fine with aging, I'm a spiritual person blah, blah, blah.' But then, when it really gets down to it, for women, the bottom line is that I want to keep working. This is what I love to do, and because I have always thought of myself as a character actor but I'm sort of in this blonde package, we'll just have to see what happens. One good thing about my face decomposing on the show is that I don't care how I'm lit, or what I look like at all. It takes all the vanity away and that's kind of awesome.
IT'S IMPORTANT TO STAY FIT
I started a health regime probably ten years ago because both my parents got cancer. So I started reading, and just because I don't want to ever get cancer, I began to look after myself. But with True Blood, I have more incentive to work out. During the writer's strike years ago, I was ten pounds heavier, and I didn't notice, but on True Blood, you have wardrobe fittings all the time so you're very conscious of your body. So I work out and I'm also a vegetarian. I try to eat really organic, healthy, lots of vegetables.'
Go to : sweetenyourwords.com to read more about what Kristin thinks about immortality and meeting her husband.
photo source: wireimage.com