True Blood's Kristin Bauer is worlds apart from the fierce and cruel nature of her television counterpart, Pam. She is kind, gentle and a true animal advocate.
In the video below, while being interviewed by "sheknows.com", Kristin even tears up while talking about close friend and co-star Alexander Skarsgård and her quest to save animals and the environment.  All of us True Blood fans, know just how big Kristin's heart is and we love her for it.
In the video below, Kristin provides the scoop on the show, the cast and the fairy tale love story that she lives out every day off-screen.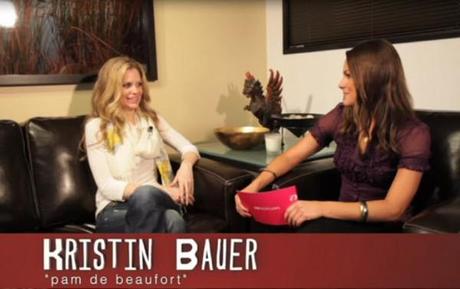 Kristin also talked about True Blood, revealing her hopes for the future of the show. If things go her way, Pam will get a girlfriend, she'll become "a maker," and they'll get a few ghosts to round out the supernatural ensemble.
Later this week look for a SheKnows special with details on Kristin's off-camera life, one of a kind love story and her amazing wedding.
If you're in the area, help support Kristin's animal rescue efforts by attending an event for The Amanda Foundation Rescue on July 14th.
source: sheknows.com