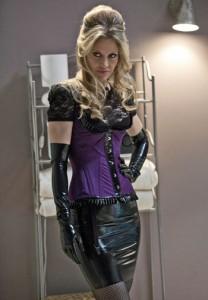 Kristin Bauer van Straten is as in love with Pam as the rest of "True Blood's" fans. Reflecting back on the show's run, it's clear that she has nothing but good feelings for the caustic vampire.
"I am very lucky that I got to play Pam, because whoever played her would be very lucky," she tells Zap2it.
Kristin says she believes fans live "vicariously" through the lives of fan-favorites like Pam and Lafayette, and she finds herself satisfied with where Pam's storyline ends up.
"I feel satisfied as an actor this year — and I have every year — that I got to do all the things that I got to do," she says. "It's 'True Blood,' and if we didn't see these characters go through everything we watched them go through, which is so difficult, you want everyone to be happy but it might be really boring. I can't say that the fans will be bored, that's for sure. There's definitely a roller coaster ride in store."
There's a slow burn for Pam in Season 7, and Bauer van Straten says the storyline "really kicks in episode 3." Though she wouldn't offer hints about where Pam's storyline heads, Bauer van Straten does say fans can expect plenty of fantastic flashbacks.
"We find out a lot more about Pam, we have some great flashbacks, and those are really, really fun for us. We want to know as much as the fans what our backstory is. I had a wonderful year and worked a lot of hours, more than I usually do, so I'm really happy about it," she says. "The information that we do get in the flashbacks about Pam are the huge, huge forks in the road that we've taken for granted that we didn't know about Pam."
With great flashbacks come great Pam outfits. "I'm picturing one in my head, and when I saw it in the fitting I thought, 'Oh my god.' It's like a time capsule outfit," she says excitedly. "We did the hair and makeup for that, so it's really going to be great."
One of Pam's most memorable facets is her on-point fashion. There have been plenty of iconic looks over the years, and Bauer van Straten found herself taking a literal walk down memory lane recently.
"I was early for a wardrobe fitting, and I just started browsing through Pam's closet. It was amazing. I would look at the outfit and then take a second and remember, 'Oh, right!' The whole scene would come back to me, and my state of mind at the time and my thoughts about Pam and the show," she says. "There were so many incredible outfits. One of them that I think was so amazing, it was a red sequin jumpsuit onesie."
Some of her co-stars didn't have the same fondness for it. "Sam Trammell, it's the only time I've done a scene with him, Sam Merlotte, and we were at a panel, and the question to him was, 'What's the most disturbing thing that you've had to film? Is there something you just can't get out of your mind?' This was years later, and he said, 'Well, that one outfit Pam was wearing …'" Bauer van Straten recalls. "That's the most disturbing thing for you? My sequins? And he was mesmerized with me on the day, and rightly so when I saw it again in the closet."
Bauer van Straten still can't help but gush about everything she loves about Pam. "I just love her personality, and all those sides of Pam that we've seen, and why it's such an amazing character to play, is we remember her for those great lines that they write and the sarcastic delivery," she says. "But we've also gotten to see her vulnerable side, which only comes out in regards to Eric. We've got this well-rounded person who I feel like we've all grown to love, and not see her as just a b**** but loyal, and also she only says what we're all thinking. She just doesn't care. I think that's why she's so enjoyable."
source: zap2it.com