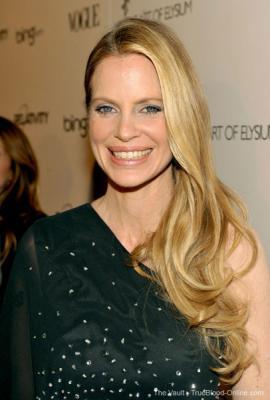 True Blood's Kristin Bauer van Stratten has a fabulous arc this season for her character, Pam.   She has done an interview with Access Hollywood where she talks about Season 4 and how Alexander Skarsgård is getting so much attention.
"What's great about 'True Blood' is they put us in [a] situation and the situation is interesting, but what I find even more interesting how we react and how Pam reacts this year, in this political post-Russell Edgington world where she's supposed to be shaking hands and kissing babies, Pam goes a bit feral," Kristin told Access Hollywood as she stopped at the Wired Cafe at Comic-Con 2011 over the weekend in San Diego. "It's fascinating how the vampires in charge try to rein her in and what her reaction is to that."
A shock even readers of Charlaine Harris' books couldn't have seen coming was when Marnie, possessed by an ages old witch casts a spell on Pam, causing her to begin rotting, something Kristin said her character is ready to avenge.
"Pam wants permission to go kill the people who did this to her and she's also trying to keep it hidden that she knows where her maker is, but she's just not a strategist," Kristin laughed.
To read this article go to: accesshollywood.com