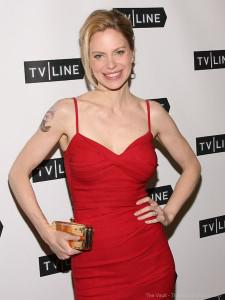 In episode 11, Pam shooting off the bazooka at the Goddess Emporium and almost killing everyone, including possibly Sookie, got her in a lot of trouble. That was just the ending of a season that throughout gave Pam a lot of challenges to get through and she has been dealt a few harsh blows this past season. First, her one true confidant — and blood-sucking badass partner-in-crime — Eric Northman (Alexander Skarsgård) turns into Mr. Nice Guy, and then that evil witch (literally) Marnie (Fiona Shaw) casts a spell that starts to rot Pam's flesh. And if there's anything that Pam loves more than Eric, it's her pretty little face.
In Sunday night's season 4 finale, the tension between Pam and her maker Eric reached a humorous boiling point when Pam, ever the dramatic, throws a bona fide vamp temper tantrum at Fangtasia, exclaiming, "I am so over Sookie and her precious fairy vagina and her stupid name." And while Pam's less-than-pleasant sentiments may have echoed the thoughts of millions of viewers, it didn't do much to detour Eric from Sookie's, well, "precious fairy vagina."
"He really is the one rock in her life — the one person she really loves and would do anything for," Bauer told The Huffington Post. "She would die for Eric. That's it for her. He's her maker. He really is her best friend, her daddy, and they just have such a complicated relationship. And she loves being his lieutenant. She doesn't want to be first-in-command, so when he's not there to be her rock, she doesn't like it. That will definitely come into play when we go into Pam and Eric's pasts next season."
But as an actress, Bauer points out, fans are just starting to understand Pam and all of her intricacies as a character — "part vulnerable, part badass" — and season five promises to explore Pam's origins even further.
"I loved seeing a vulnerable side to Pam this season, " said Bauer. "As an actor, you want to do something new every year and do something deeper, so it was incredibly fun for me to get to see who she was without Eric because he wasn't really there for her this season. And then you take away her looks — her vanity — and I had no idea how she would react. It's the same in real life too. When the sh-t hits the fan, you really discover yourself, and the fact that she becomes a warrior made me love her even more. She could have sat there and cried and felt sorry for herself, but that's not Pam."
Although Pam isn't one to cry and breakdown, there were a few vulnerable scenes for Bauer this past season. In "Burning Down the House," Sookie finally helped Eric break the spell that erased his memory. While Pam was initially overjoyed at the thought of Eric returning to his normal self, she suddenly realized that she was no longer Eric's number one girl — and although she would never admit it, for the first time, Pam looked really hurt.
"In that scene, she realizes that she'll never have the same relationship with Eric that she once had," said Bauer. "There's this incredibly touching scene between Eric and Sookie and then this incredibly touching moment between Eric and Pam, and then you realize that this is a huge issue for both women. Pam has always been number one."
To read the rest of this interview go to: huffingtonpost.com