19 total views, 19 views today
Yamaguchi's Skating Career

Her sister Lori did not pursue the sport, but Yamaguchi's love for ice skating kept her on the ice. She started competing in junior high, and in 1986 she won the junior pairs title with her partner, Rudy Galindo at the U.S. championships.
Two years later they took home the same honor during the World Junior Championship. And in the singles event, Yamaguchi won the World Junior championship. She is also a two-time national champion.
Yamaguchi and Galindo won the senior pairs title in 1989 & 1990 in the U.S. championships .
Yamaguchi moved to Alberta Canada in 1991, to train with Christy Ness, and focused exclusively on singles skating. She won the World Championships that year, and went on to win a gold medal in the 1992 Winter Olympics in Albertville, France.
After her having conquered the Olympic gold medal, Yamaguchi toured with 'Stars on Ice' from 1992 till 2002. Yamaguchi was inducted into the U.S. Figure Skating Hall of Fame in 1998.

She was a Goodwill Ambassador at the 2002 Olympic Winter Games in Salt Lake City, Utah, and in 2005 she was inducted into the U.S. Olympic Hall of Fame.
Also read : Sports Entrepreneurs Who Made It Big
Kristi Yamaguchi Net Worth
After success on ice satiated her, Yamaguchi turned to the glamour. In 1993 she went on to make a fitness video titled Hip to Be Fit: The California Raisins and Kristi Yamaguchi.
Then she had the opportunity to act in the PBS series Freedom: A History of Us, and then she portrayed herself in the sitcom Everybody Loves Raymond, the film ' D2: The Mighty Ducks', TV special ' Frosted Pink' and the Disney Channel movie ' Go Figure'.
In 1996 Kristi Yamaguchi founded a non-profit organization Always Dream Foundation. The aim of the Foundation being to serve the underprivileged, disabled and at-risk youth. Yamaguchi is also an author, in 1997 she penned Figure Skating for Dummies. Kristi Yamaguchi net worth is $8 million, says Celebrity Net Worth.
She also published three books for children: Always Dream, in which she shared her own story, with the aim to inspire preteens. She penned two storybooks, Dream Big, Little Pig! in 2011 and It's a Big World, Little Pig! in 2012. She had contributed to Chicken Soup for the Soul: True Love: 101 Heart-warming and Humorous Stories about Dating, Romance, Love, and Marriage.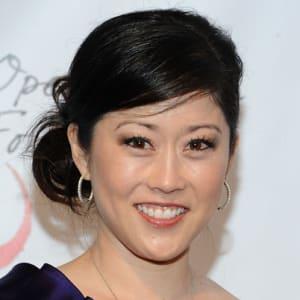 Personal Life
In the year 2000, Yamaguchi married Bret Hedican, a hockey player whom she met during the Olympic Games in 1992. They have two daughters, Emma and Keara. They spend their time between the San Francisco Bay area, Minnesota, Raleigh, and North Carolina.