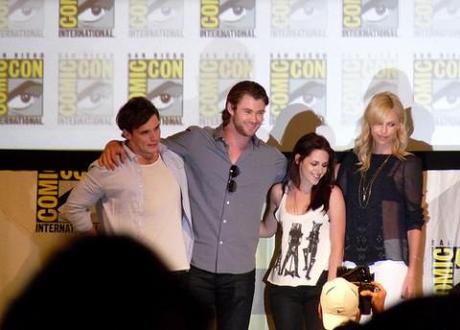 Theron, Stewart and Hemsworth at ComicCon talking about the film. Photo credit: Starbright31
The background
The second Snow White retelling this year (the other being Mirror Mirror, starring Julia Roberts) brings a new twist to the fairy tale. Huntsman is a dark, twisted medieval take on the Grimm brothers' tale. Starring Charlize Theron as Ravenna, the evil queen, and Twilight star Kristen Stewart as Snow White, director Rupert Sanders' first film had its premiere at the Cannes International Film Festival and has been toted as a champion of visual effects.
So how did it fare with the critics? The Periscope Post finds out.
Charlize Theron stings as the evil queen
Theron's decision to play the evil queen as the ultimate jealous psycho-bitch has been praised by the critics. Den of Geek say that she is "demonic, furious, and psychologically fractured … utterly committed to her role". Screen International agreed, and said the film was "blessed" by Theron.
Stunning visuals
Movie Web's Lim Chang Mo said that he liked "the breath-taking landscapes and fantasy sets that remind us of those in 'Lord Of The Rings' and 'Princess Mononoke.' These help to ground the fantasy with a touch of credulity." The Telegraph agreed, and said that "easily the most satisfying elements of the movie can be notched up to design." Digital Spy praised the "gorgeous, ethereal imagery and spellbinding effects."
A more gutsy retelling
The critics have praised the tougher edge the film has in comparison to the original tale and this year's Mirror Mirror, which was a comedy. For instance, The Arts Desk praised the fact that Stewart fights like Boadicea, "metal-breasted and heavily sworded," and the dwarves, who are "less sleepy and dopey and more hairy and snidey."
Overstretched plot
Den of Geek said the film tries to take on too much: "It aims to people the inevitably paper-thin pages of a fairy tale with robust, psychologically believable characters, as well as ticking off romance, epic action, stunning visuals, and comic relief." Movie Web agreed, and said that "the film-makers try their utmost to provide character psycho-analyses … this is quite unnecessary in a popular fairy tale and it just cramps the movie with too much baggage."