Hey y'all hope your week is going well! A couple weeks ago I was nominated for the Kreativ Blogger Award by Chrissy of Gotta Have It. I have been a fan of her blog and style for a while, so I was completely flattered! I love the fashion blogging community and the idea of paying it forward by passing along this nomination!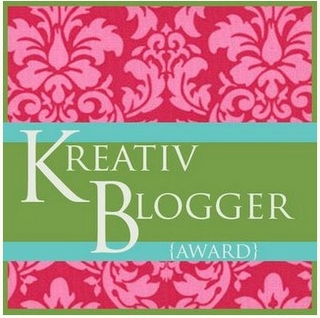 Here are the rules of the award: 
1. Give a big thank you to the blogger who gave you the award and link to their homepage.
2. List seven interesting things about yourself that your readers may enjoy learning about you.
3. Nominate seven other amazing bloggers, linking their homepages and informing them of the great award they have received.
Ok so here are seven, hopefully, interesting things about me : )
1. I grew up in Dallas, Texas.
2. I was a semi-professional ballerina until I injured my knee at 16.
3. I talk to my mom on the phone at least once a day.
4. I actually really hate having my picture taken, although it has gotten a little easier after doing all of these outfit posts : )
5. My favorite TV show is Friends.
6. I am a Manager at Elly's Couture Boutique in Columbia, Missouri.
7. I always cry at the end of 'You've got Mail'. Embarrassing, but true.
And my nominees are:
Streets of Sparkle
The Southernista
The Marcy Stop
One Stylish Day at a Time
Feed Me Nana
What2Wear
The B Soup