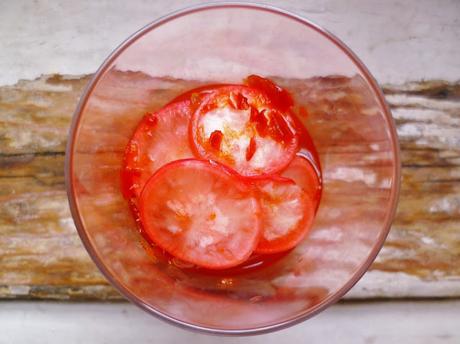 korean-style radish and chilli pickle
I love Asian pickles and I don't think there's much that can't be improved by a little jolt of chilli, including this utterly simple Korean-style radish pickle. Of course, you can leave the chilli out. But why would you want to?

I've used peppery European radishes for this rather than the more traditional daikon or mooli radishes. Asian radishes are marginally hotter, although I don't think it makes much difference in this pickle. And unlike traditional British pickles which usually need a few days or even weeks to mature, this one can and should be eaten immediately. It will last well for several days in the fridge, but I wouldn't keep it for longer than that as I think the flavor and texture begins to deteriorate.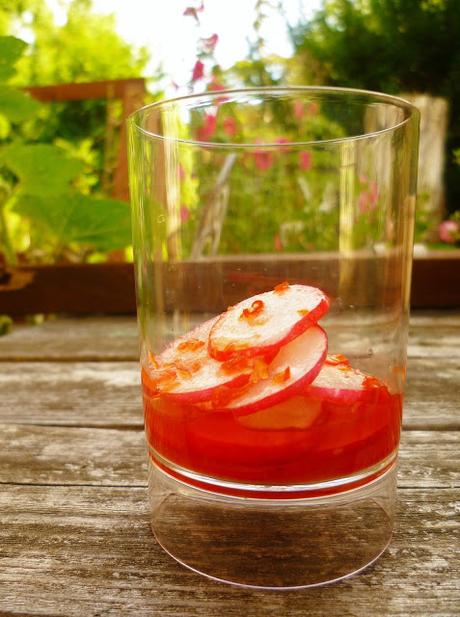 korean-style radish and chilli pickle ready for supper in the back garden!
I usually use this as a topping for noodles and Asian soups, but it is brilliant with roast meats or as a sandwich filling.
Skill level: Easy
ingredients:
100g radishes, cut into matchsticks
1 red chilli, pureed
2 tbsp rice wine vinegar
1 tbsp sugar
1 tsp sea salt
directions:
Make the pickle by whisking vinegar with sugar and salt, until dissolved. Stir through chilli puree and radishes. Set aside to allow the flavours to develop.