I had never had Korean Fried Chicken when I decided to try making it at home. Now I'm sad I missed out on this amazing dish for so many years. It is outstanding!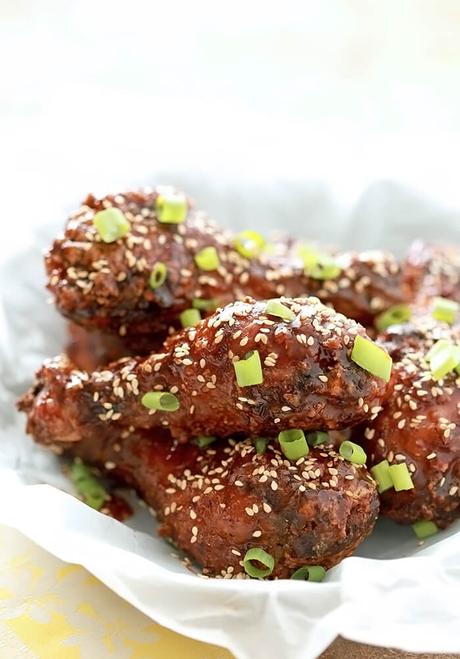 I was asked this past week to answer some questions about food styling for a local magazine article. You know the how/when/what type of thing...in 400 words or less! One question asked me where my inspiration comes from. I'm not as inspired by photos of dishes as much as I am a curiosity about ingredients or from hearing someone rave about something they've had. This Korean Fried Chicken is the perfect example.
It was as simple as this; Deverick is a guy I know only from Facebook who is local and he and his friends were waxing poetic about KFC. Not that KFC, no, it was all about Korean Fried Chicken. I was curious so did a quick search and found several local restaurants but none near me. I could see they were all in one general area so clearly there is a population concentration in a part of Denver, but my curiosity wasn't enough to travel there.
I did the next best thing and did a search for a recipe! I found several and knowing nothing of the dish I let someone else take my hand and lead the way. I found this recipe at My Korean Kitchen and decided that a food blog specializing in Korean food would be my best bet. I revised it a bit but mostly to take into account the ingredients I know most American cooks have on hand (cornstarch vs potato starch, etc) but followed it pretty closely. As much as I like to experiment, I know enough not to experiment with something I've never tasted before; I wanted the real deal!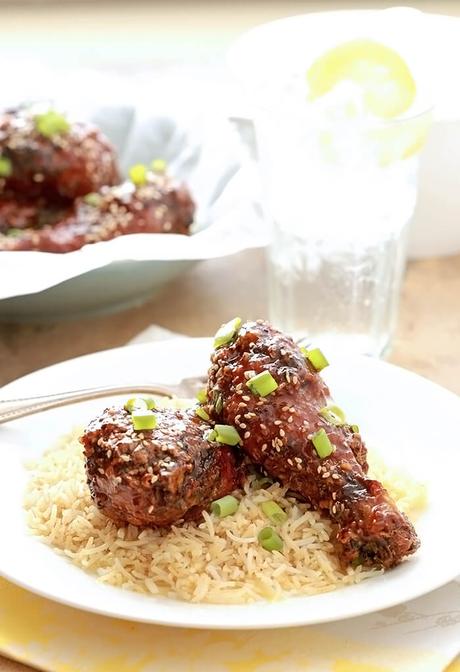 It was clear from the ingredient list that the most important part of this recipe is Gochujang (Korean chili paste). It's a fermented red pepper paste that results in a deep red sauce. The spiciness of your dish can be increased by using more of the paste but I loved the heat in this recipe; it was just right, not REALLY hot. It's a nice combination with the honey and brown sugar in the sauce resulting in something I call sweet heat and simply love.
I haven't fried chicken much in the past couple of years and now I've done it twice in just two weeks. I have another great recipe for fried chicken from Marcus Samuelson that I'll post soon. It's fantastic too...even if I must admit I loved this one the best; hence it gets top billing!
One important note about frying chicken or actually about any chicken? I know that the 'experts' tell you to make sure the internal temp is at 165 degrees to insure it's done. But I like to give dark meat a bit longer and go to 180 degrees, whether fried or grilled outside. It's moist enough to manage a bit longer cooking time and I've found it makes all the difference, especially with bone in chicken. At 165 degrees it's cooked but not quite as tender as I like it. When I fried these long enough to get an internal temperature of 180 degrees, the meat almost falls off the bone; just how I like it.
The same is not true for chicken breast meat...get those pieces off at the 165 degree mark; they are less moist and increased cooking will simply dry them out. I find that an Instant Read Thermometer is invaluable, indoors or out.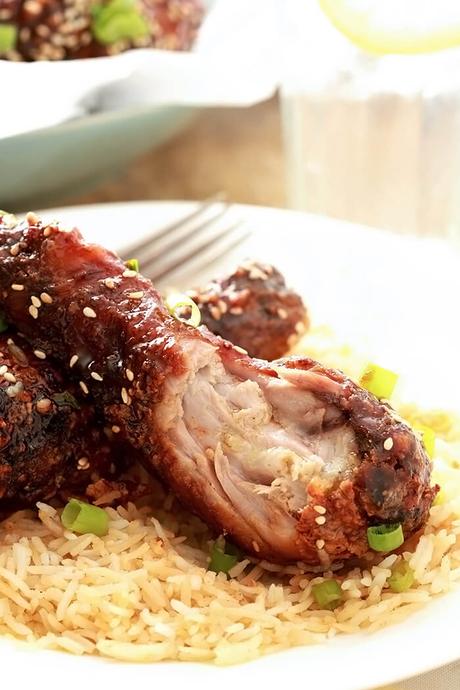 It can be difficult to share with readers sometimes just how amazing a dish is. The adjectives are all so worn out. Amazing! Fantastic! Incredible! So I'll simply share my experience. I stole one bite of a finished piece before I took photos as a requirement of the effort...and I stood over the kitchen sink and DEVOURED the entire piece of chicken and had to hold myself back from taking more.
Plus, when I make a lot of food, I usually ask a neighbor to join me for dinner or send a couple of pieces elsewhere. Don't tell but I didn't share. Not one teensy bite. I also had this for dinner four nights in a row and was still sad when it was gone. Yes, THAT's how much I love Korean Fried Chicken; the only KFC I love!
I think you must try it too; it's that good. I know this will probably fly in the face of KFC aficionados but if frying chicken is not your deal; then make a baked or grilled chicken dish that includes the ginger and rice wine in the basting sauce. Top it with the Korean Sweet Chili Sauce and you'll be close...sure, you'll lose that crunch but seriously, it's really all about that sauce!