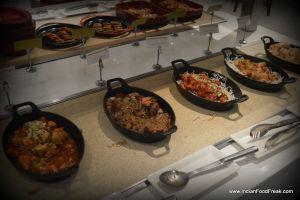 I love Korean food and the buffet at the Latest Recipe at Le Meridien, Gurgaon has been one of my favourites. So when I get to know that Le Meridien is hosting a Korean food festival from 1st to 17th April as part of its regular buffet, this is one invite that I just cannot refuse.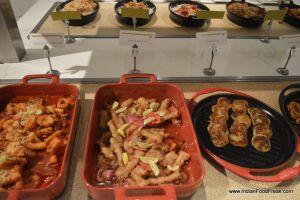 Apart from the small board at the restaurant entrance that confirms the ongoing Korean food festival, there is nothing that exhibits the festival. Neither is there any decoration and nor are the servers dressed in a traditional costume which has become an accepted norm at most places which do such food promotions. While I understand that the regular Indian – Oriental stuff as part of the buffet is also available, when they have flown in a chef especially from Korea for the festival, a little bit more attention to such details including music and drinks can go a long way in ensuring a better experience for the diners.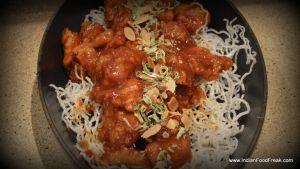 There are many dishes in the Korean spread including veg, chicken, lamb, pork, crab and prawns. Beef missing sadly because of Haryana government regulations ! I start with the Korean Kimchi. The flavours are intact but it needs more fermentation. Chicken in Red Pepper Sauce, given its spicy flavours, will be loved by most Indians. However, the Sweet and Sour Pork has more bite than required. It seems like a lean pork and fat is missing at least from the helping that I take.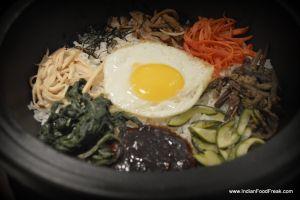 I have always had kimchi raw and this is for the first time I try Kimchi Pancake and find it to be nice. If you like salad, you must try Spicy Whelk (common name that is applied to various kind of sea snails) meat salad. It is done in mustard and vinegar dressing and the freshness of seafood makes it a must try dish on the menu. I also enjoy the Spicy Braised Pork Ribs and Bibimbab. However, the best part of Korean meals are the grills. Don't miss the Lamb Chops that have been marinated for over 5 hours. Equally good are the grilled boneless Pork Leg Meat. However, just like a Korean restaurant, these meats should be cut using a knife in small eatable portions before serving. The grills are served with spicy barbecue sauce. I also would have also liked red bean sauce to be served along.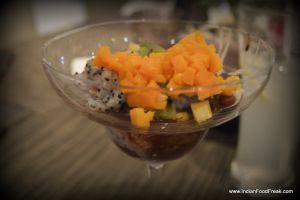 There aren't many desserts in a Korean meal apart from those made with rice cakes and red beans which not many Indians would appreciate. However, Le Meridien is cleverly serving Shaved Ice Dessert with Red Beans. It is topped with condensed milk, strawberry jelly, mangoes, etc that doesn't let the red beans flavours outshine. Good thinking!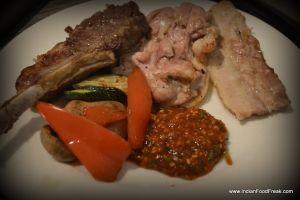 So should you visit Le Meridien for the festival ? My answer would be that if you have never tried Korean food, it gives you a good opportunity to try the cuisine at the same buffet price and if you think that your taste buds are not made for it, you can go back to the other fare available in the menu. If you like Korean cuisine then Le Meridien offers a great value for money package that is irresistible. However, it will fail to please the patrons who are looking for a complete experience with soju and seating to match.
Ratings (Out of 5)
Food: 3.0 | Ambience: 3.0 | Service: 3.5 | Overall: 3.0
Meal for Two: Rs3800 (lunch), Rs4000 (Dinner) ++ | Wheel Chair Friendly: Yes | Credit Card: Yes | Alcohol: Yes
Address: Latest Recipe, Le Meridien, MG Road, Gurgaon | Phone: 0124-4992008
Disclaimer: This review was done on an invitation from the restaurant. Due judgement and care has been applied by the author to remain objective and unbiased in the review, but readers need to consider this review keeping this fact in mind.