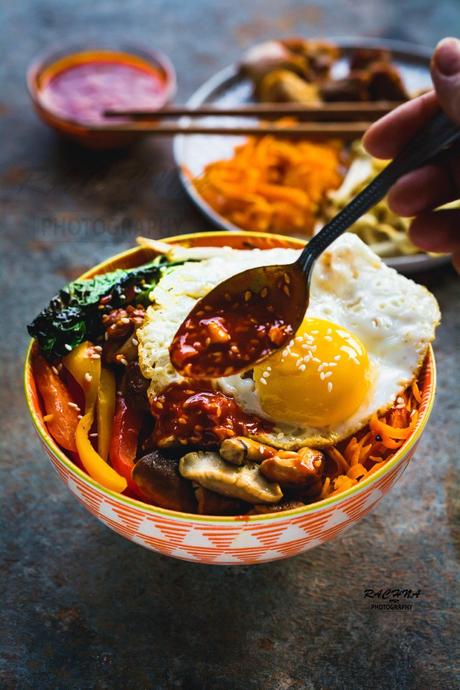 Korean bibimbap recipe - is a mixture of rice with meat and varied sauteed vegetable, all drizzled with gochuzang based bibimbap sauce, topped with runny egg and sesame seeds. In one word it is all goodness in one bowl.
This Korean bibimbap is simple to make and above that it's all cooked up in one pan. Isn't it amazing ?? If you are asian food lover like me, this recipe is for you.
I have not made it in authentic Korean style because I don't consume beef. So given a little tweak to recipe and made it with chicken. And believe me chicken bibimbap is darn delicious. One of the pretty thing of this recipe is its quite adjustable according to dietary restrictions. You may add any vegetable or exclude meat, use mushrooms.
The most desirable ingredient in this Korean bibimbap recipe is the sauce. Its Gochugang sauce, I bought it from amazon. But once again you may replace it with any chilli sauce you have in your kitchen. But I highly recommend Gochugang sauce because it gives the feel of authenticity and it has amazing flavour. I remember when I got my parcel. I opened it immediately out of my immense curiosity. And the SMELL was sensory garlicky chilli umami aroma. I just loved it. I am quite good at handling heat in my food so I loaded my bowl with the sauce but please be aware its hot and add it it as per your preference.
The runny egg is just like cherry on the cake. Unlike the authentic Korean bibimbap recipe in which raw eggs and meat is used, I cooked my egg just till the yolk formed a layer but still runny inside.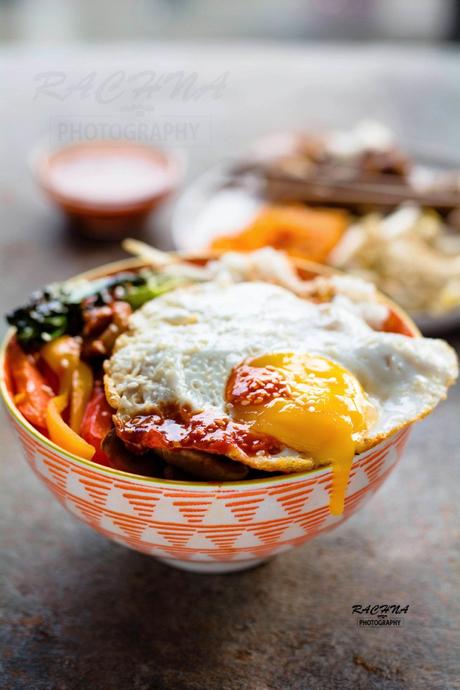 Ingredients
For chicken sauce
100g chicken boneless
1 Tbsp soy sauce
1 Tbsp sesame oil
1 tsp sugar - I used brown sugar
1/4 tsp minced garlic
salt to taste
For vegetables and base
For bibimap sauce
2 tablespoon gochujang
1 tablespoon sesame oil
1 teaspoon minced garlic
1 tablespoon brown sugar
1 tablespoon water
1 tablespoon roasted sesame seeds
1 teaspoon vinegar
Step by step Korean Bibimbap recipe
Step 1. Wash and clean the vegetables. Chop them thinly.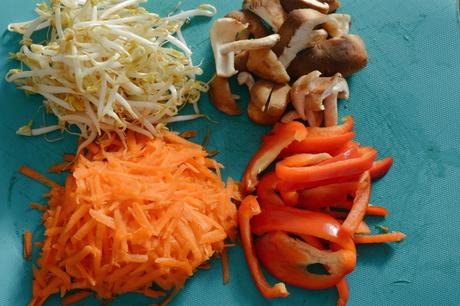 Step 2. In the chicken cubes, add soy sauce, sesame oil, sugar, minced garlic and salt to taste. Keep it aside.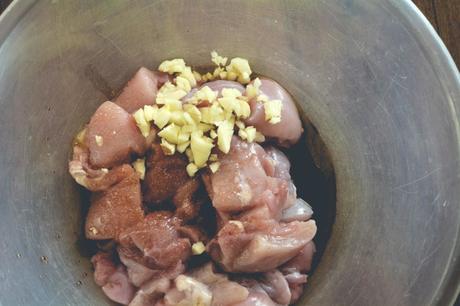 Preparing bibimap sauce
Step 3. In a bowl, add gochujang,sesame oil, minced garlic, brown sugar, sesame seeds and vinegar. Add 1 tablespoon of water to dilute the consistency.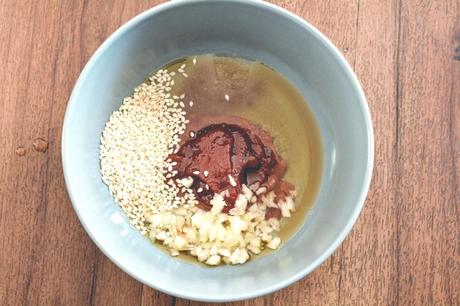 Mix it throughly and keep it aside.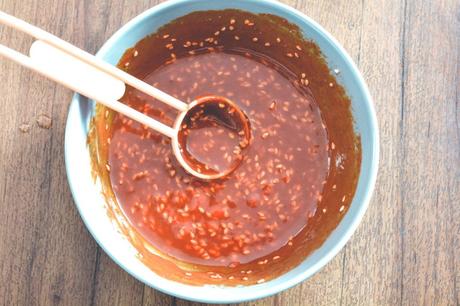 Step 4. Place a pan over high heat. Saute carrots in pan with 1 tsp sesame oil for 1-2 min on high heat.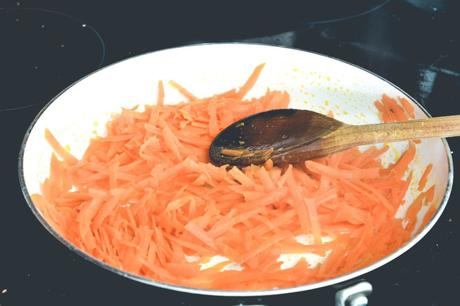 Step 5. Continue cooking all veggies this way individually in the same pan, setting aside in a large bowl each time. Veggies should be crisp but cooked.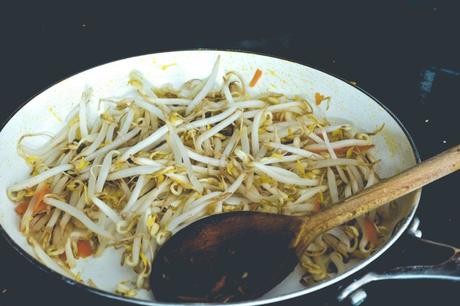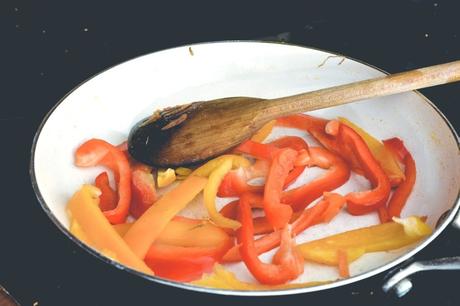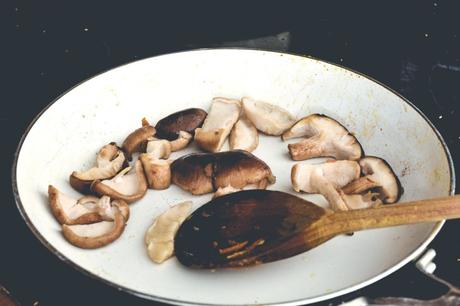 Step 6. In the same pan, add cooking oil, cook cubed chicken on medium heat till it is thoroughly cooked.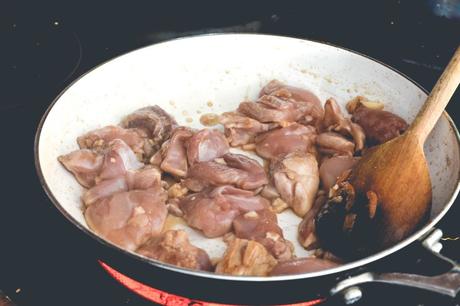 Step. 7 Then again in the same pan, add little oil, on the high heat add egg. Cook for a few seconds, then remove from heat and let the egg continue to cook off heat in hot pan . Remove from pan when yolks appear runny but mostly cooked.
Step 8. Arrange your Korean bibamap in a large bowl by adding 1/2 cup cooked rice at base. Put veggies one at a time, place each in circle around bowl. Add chicken in centre. Pour bibimap sauce as per taste. Top it with cooked egg and garnish with sesame seeds. Serve and enjoy !