My family loves Kong Bak Pau  (扣肉包) 
and I can never do it well until P shared with me this recipe.
Yesterday, I was given some sweet buns and I decided to make a batch of Kong Bak to go with it.
I have cooked this recipe once and really love it.  Unfortunately, I sliced my meat too thinly and it didn't stay in one piece.  
This time I was trying not to make the same mistake and focus to slice it at 1.5cm thick but another set back, I don't know why after steaming, the length shrunk.  Also my bun was somehow bigger than those that I bought before.  Darn, now it is thick and short.  My Kong Bak Pau turned out too hideous.  Tsk tsk.... need more practice.  
Don't mind the looks but this buns are seriously delicious.
Nevertheless, this recipe is definitely a keeper!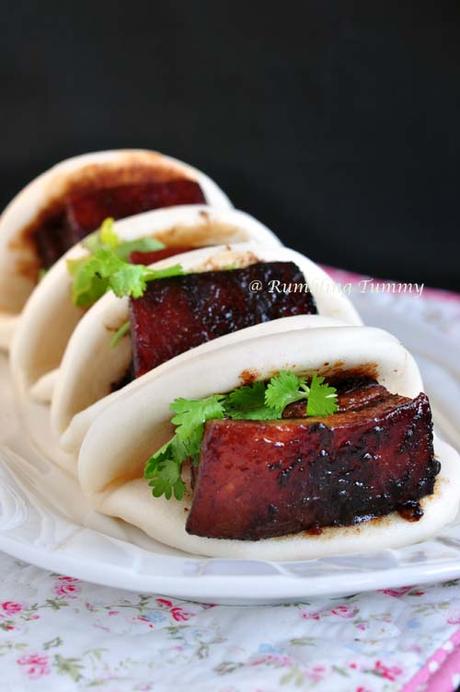 What you need:
1kg pork belly
4 tbsp light soya sauce
4 tbsp dark soya sauce
80g chopped garlic
4 tbsp cornflour
4 tsp sesame oil
4 tsp sugar
2 tsp five spice powder
2 tsp pepper
Method:
Put pork belly into a boiling water and cook for 30 mins.  Drain.
Coat the pork belly with the soya sauces.
Deep fry the pork belly for 30 sec to seal the juice or until golden brown.  
Slice the pork belly into 1 1/2 cm thick.
Add all the remaining marinating ingredients to the pork belly. Coat evenly.
Layer the pork belly slices into a pot and braise for 1 1/2 hour or until soft.
To serve, place a pork belly slice and some coriander into each steamed bun.