Kojie.san's skin care line are powered by a combination of its latest skin innovations, Zero Pigment Light and HydroMoist. These two together, offers a supercharged mode of action that effectively lightens dark spots, age spots, scars, melasma, and hyperpigmentation, all while locking in much needed moisture.
Kojie.san Skin Lightening Face Cream SPF15 w/ HydroMoist can be your new favorite day cream. Zeroing in on hyperpigmentations, it lightens dark spots to help you achieve that even skin tone. It also has a soft, powdery finish which mattifies the skin, further refining its color and texture. With SPF 15 to protect from repeated and unprotected exposure, this face cream gives you the light, even complexion you want daily.
Kojie.san Skin Lightening Face Cream w/ HydroMoist helps restore and strengthen your skin barrier, and minimizes the appearance of fine lines and wrinkles. Use it at night to maximize its great repairing action that reduces dark spots and blemishes, and keeps skin moisturized for longer.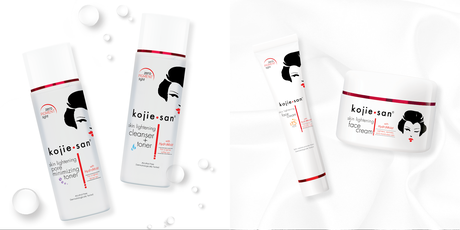 Kojie.san Skin Lightening Cleanser + Toner w/ HydroMoist is a facial toner that contains a dual-action formula: it's a cleanser and toner in one product. As some cleansers can be harsh and drying on the skin, Kojie.san combined the cleaning benefit that removes deep-seated dirt and impurities, with the toner action of boosting hydration to help protect your skin from loss of moisture and giving it that healthy and luminous finish that people love referring to as "glassy."
Kojie.san Skin Lightening Pore Minimizing Toner w/ HydroMoist is a facial toner with skin-purifying formula that helps minimize pores because of oily skin. This formula coats the skin's surface to protect it from dirt and impurities that may clog pores, and cause them to become bigger. Perfect for improving skin firmness by tightening pores and keeping shine at bay, this toner leaves the skin looking matte, oil free, and healthy.
Whether you want to go for a glassy or matte skin look, Kojie.san has got you. These toners allow you to Take Control over every detail of your skincare routine because the choice on how to command your beauty should be yours and yours alone.
Get exciting updates and information at @KojiesanPH on Facebook and Instagram and www.kojiesan.com. Kojiesan is available at all leading supermarkets and drugstores nationwide, as well as Kojiesan's official LazMall on Lazada and Beauty MNL.