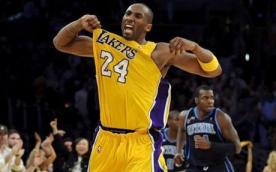 A bona-fide superstar, Kobe Bryant has become a household name--and then some.
Since his inception into the league in 1996, Kobe Bryant has been worldwide known and revered. He has won five NBA Championships, two NBA Finals MVPs and a regular season MVP Award. He is a nine-time all-defensive team selection. He is a 14-time NBA All-Star and a four-time NBA All-Star Game MVP. He has an approximate net worth of $200 million and that's not all from his nearly $30 million per-year contract with the Lakers. In fact, a large majority of it is from the endless endorsement deals he's signed and the worldwide tours that he has embarked on. His jersey is the second best-selling in the NBA, and he is a worldwide phenomenon. How can someone this popular be underrated? As absurd as that does sound, Kobe Bryant is an underrated player.
When someone says, "Best player in the NBA," many players might come to mind: LeBron James, Derrick Rose, Kevin Durant, Dwyane Wade and Dwight Howard, to name a few. According to TrueHoop on ESPN, Kobe Bryant is the seventh best player in the NBA with a score of 9.40 (don't ask me what that means). He simply is not in his prime anymore, and, therefore is not viewed with the same sense of amazement as he was five years ago. Consider, though, that he is playing with a lackluster supporting cast. His backcourt mates are Derrick Fisher, Steve Blake, Jason Kapono and Andrew Goudelock, none of whom inspires greatness. Pau Gasol's skill is declining, and Josh McRoberts and Troy Murphy aren't necessarily Messiahs. He does have Andrew Bynum, but he has been injured every season in his career so far, and Kobe has led the Lakers to plenty of titles without that cornerstone. The fact that the Lakers are 14-11 and in position to make the playoffs is a miracle on it's own. Kobe Bryant is the Peyton Manning the NBA, as he means more to his team than any other player in the league.
"Kobe Bryant is the Peyton Manning of the NBA, as he means more to his team than any other player in the league."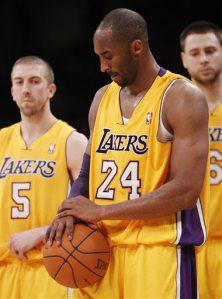 His supporting cast may be disappointing at times, but the resilience of Kobe Bryant has propelled the Lakers to a 14-11 record.
During the NBA preseason, Kobe tore a ligament in his wrist. The team's doctors said that it was an injury that could take up to three weeks to heal and that he "won't be ready to play for two weeks." Three days later, Kobe put up 28 points on opening day against the Bulls, one of the stingiest defenses in the NBA. He went on a stretch of four straight games with more than 40 points. He's averaging 29.3 points per game, not to mention the almost 40 minutes per game for which he's on the floor. In a new era of the NBA where each star has a high-profile partner in crime, Kobe is simply left out in the cold, without a healthy, established star to share the load.
"LeBron has Wade. Wade has LeBron. Rose has Deng and Noah. Durant has Westbrook. Paul has Griffin. Anthony has Stoudamire. With Bynum often-injured, Kobe has Josh McRoberts, Andrew Goudelock, Troy Murphy and Jason Kapono."
(GRAPHIC MADE BY SAM BRIEF)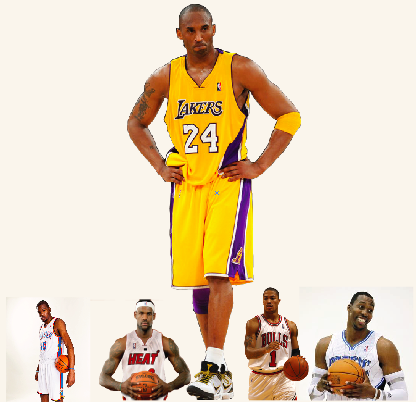 Everyone else. (MADE BY SAM BRIEF)" /> Everyone else. (MADE BY SAM BRIEF)" />
Even on the All-time list, Kobe had better be near the top. If championships count for anything, his five should be a difference maker. Add in his incredible career statistics, and you have the perfect combination of wins and individual performance. He makes the difference for his team like Peyton Manning does, yet he has four more rings than him…
I know it does sound pretty absurd, but in a world of the LeBrons, Roses, Howards and Durants, Kobe is the lone soldier out West, leading a team with talent ranking the among NBA's worst into the playoffs (for now).
"Kobe is the lone soldier out West, leading a team with the talent to be among the NBA's worst "
In October, ESPN's Ric Bucher ranked Kobe Bryant as the #1 player in the NBA. This came with an unprecedented amount of backlash. He was right though, because if LeBron, Rose or Durant were put into the same situation that Kobe is in, they would be as perplexed as any.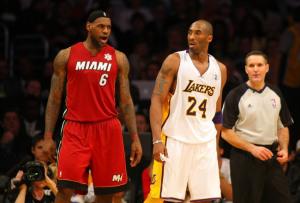 As most fail to see, Kobe is still #1.
You just heard the cold-hard truth: Kobe Bryant is as underrated as any – except when you start talking about Paul Milsap, that's an entirely different story…
By Sam Brief
Agree? Disagree? Leave a comment, I would love to know what you think!
Follow me on Twitter (@SamsSportsBrief)