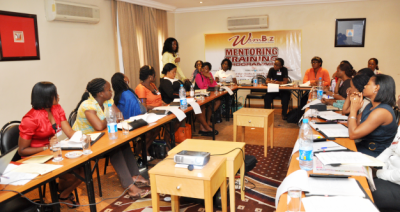 Members of Women in Management and Business, a KnowHow participant in Lagos, Nigeria (Photo: Staff).
Women around the world are still underrepresented in the policymaking and economic spheres. One way for women to become active citizens is working with civil society organizations that have the tools and knowledge to help give them a voice and advocate for reform. That's why CIPE launched the KnowHow mentorship program (KnowHow) last year on International Women's Day. KnowHow connects volunteers with technical expertise to local associations around the world seeking their know-how.  To date, the program has successfully matched experienced business professionals with twelve associations from developing countries, ten of which are women's business associations.
Here are some highlights of what's been happening:
The Association of Business Women in Serbia (ABW-Serbia)  has been working with Peter O'Neil since last summer. They have a monthly conference call to improve on ABW's pressing organizational issues, including fundraising, financing, and membership services.  O'Neil and Anastasia Jelasic, the Business Development Advisor for ABW, recently created ABW's working plan for the year 2012, and are moving forward with the mentorship. As Jelasic noted, "ABW expects that this KnowHow mentorship will provide the organization with the knowledge and skills necessary for making our organization sustainable as Serbia joins the path to EU membership."
Since December 2010, Russell McKinnon has been mentoring the Women Business Owners Jamaica (WBO),  an association that promotes the success of women business owners through education, research, mentorship, and networking. Through online meetings and document review and exchange, Russ works closely with WBO to strengthen the organization's capacity and to develop sustainable revenue sources to better serve the needs of WBO's members and stakeholders. Yaneek Page, the President of WBO, said that "a significant benefit to us thus far is the input and guidance of our [KnowHow mentor, Russ] in the development of a comprehensive three year strategic plan that'll serve as a platform for WBO's organizational growth, resilience and continuity."
The Association of Businesswomen and Top Managers (AFAFCI) in Romania  – which aims to become one of the main representatives of the local business community for women – is working with Harriet Fader to identify the needs and values of AFAFCI's 39 members. Through KnowHow, AFAFCI has been exposed to new strategies for increasing membership, networking activities for members to better connect and start partnerships, and ideas of community service projects. Delia Cojocaru, the Executive Director of AFAFCI, strongly believes that "exchanging experiences and best practices is essential for organization progress. CIPE's KnowHow Exchange [is] a [great opportunity] that turned into a successful dialog."
Check out how other business associations in the program are improving their organizations through the KnowHow mentorships  and what the mentors think about assisting  associations in other countries. Two of the mentors, Peter O'Neil and Susan Sarfati, also shared their KnowHow experiences on video.
CIPE will continue working with women's business associations to help empower them by growing their capacity. If you would like to help build women's associations' know-how , or if your association could benefit from getting a mentor, let us know!