There are so many things you should take in mind when shopping wedding gown for you big day, such as the styles, colors, fabrics and so on. Chosoing wedding gown is really hard work, and if you don't know what style you like, it will be hard for you to pick out the right gown. Here are some suggestions you maybe need, read on and hope these would help you.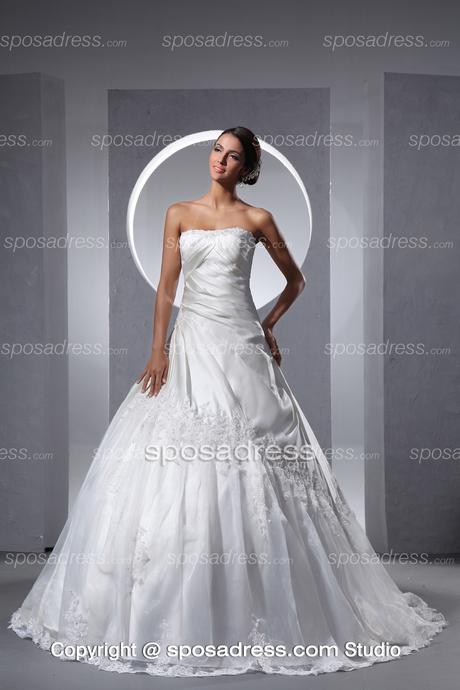 If You're Tall: Simple wedding dresses are good for you. The strategy is to emphasize your natural shape, so every aspect of the dress―the lower waistline, a floor-sweeping hem―needs to reflect your longer proportions. If you're wearing long sleeves, they should go past the wrist. You don't want to look as if you've borrowed a gown from someone shorter than you.
If You're Petite: Trumpet, sheath, and modified A-line gowns. Find a style with a waistline above your natural waist, to make the lower half of the dress (and therefore you) appear longer. The fabric is up to you―you can pull off a high sheen. But the detailing should be small and limited to the bodice, to draw the eye upward.
If You're Small-Chested: A ruched bodice. Extra fabric up top will help fill out your upper body and create the illusion of curves. Lightly padded halter styles will also do the trick.
If You're Straight-Lined: A dress that will create curves where you don't have them. Try a sheath dress in a wispy charmeuse that's cut on the bias; the curving side seam will give you a va-va-va-voom silhouette. Or look for a ball gown that cinches in at your natural waist and descends into a full, flowing floor-length skirt: It will capitalize on your slenderness and camouflage a lack of hips.