Knife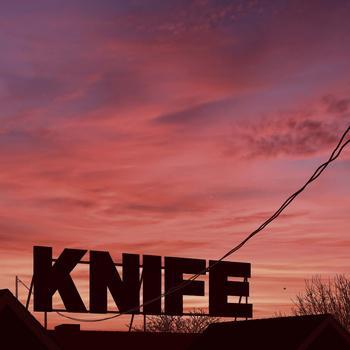 This may be less a story about a solid band than about a great city close to my heart.  And it's not because the band is less deserving.  It's because the story of the city is tightly interwoven with the raison d'etre of the band.
The city is Detroit.  The band is KNIFE.
You'd have to be living under a rock to be oblivious about the incredibly hard times D'town's endured over the last several years, even before the bottom fell out of the auto industry in 2008.  Boarded up factories.  Boarded up schools.  Boarded up hotels.  Boarded up neighbourhoods.  The economic devastation is staggering.  It's enough to break your heart .  Their heart.  But in the midst of this bleak wasteland there's still hope.  They're fighting back.  Pockets of vibrancy and vitality fueled by the driven, focused and resilient SOB's that call Detroit home.  Despite the desolation and adversity, they've kept their eye on the prize and never wavered from their "damn the torpedoes" point of view.  They didn't let their dire circumstances affect their outlook on life.  Bottom line is, Detroiters are good people and they know how to fuckin' rock.
Such is KNIFE.  Like a firey Phoenix rising up from the ashes, Knife embodies the same resilient attitude of their hometown in everything they do – their music, their lyrics, their performance and their in your face, fuck you attitude.  They play with heart after a full transplant.  Knife fearlessly leaps headlong into the moshpit of hard times doing it their way come hell or high water.  Just like how D'town has always done it.  They don't fuck around.  It's their way or the highway.  A bastion of artistic freedom in an over regulated, politically correct conformist world.  They cut straight through the bullshit.
Knife has shared the stage with heavy weights like Tool, Intronaut, Fu-Manchu, Black Tusk, Hellmouth, Easy Action and Lo-Pan just to name just a few.  When bands of that calibre are paying attention it means it's time for the rest of us to sit up and take notice.  Wakey, wakey waveriders.
An enhanced Teedified edited version of their smart bio says it best:  "Knife is a sonic colossus.  They cast a huge, riffladen shadow over the metropolitan Detroit area. This beast is devouring the city block by block and venue by venue.  Drawing on their eclectic heritage, Knife coalesces around the riff much like their forefathers did in Black Sabbath.  You can trace their auditory bloodline to pioneering bands like Rollins Band, Crowbar, Danzig, Kyuss and Led Zeppelin as well.  Knife powers forth an inimitable, stand alone and individual reinterpretation of the music that fuels them.  They are a razor sharp conduit of doom, brooding anger and the powerfully destructive side of mother nature.  You can hear the history and soul in their craft.  And yet the band is intent on carving out their own unique brand of heavy blues quite unlike anything we've heard before.  Their metal is tempered with mature hooks, cast iron song writing and articulate, soulful solos that firmly plant them in a whole other arena".
The bio continues:  "Knife is pedigree.  When you put five masters of their respective crafts in a Detroit cellar together, you're gonna get something that stands out from the tepid bullshit people try to pass off as music these days.  You're gonna get something sincere, something with perspective and something that will cut your goddam head clean off your shoulders.  Knife isn't fucking around".
They sure aren't .  They'll gut your earholes.
As we all know, Detroit has a long line of legendary, original pioneering rock acts - MC5, Iggy Pop & the Stooges, Alice Cooper, Ted Nugent, The Muggs… the list goes on.  Knife continues that musical legacy/dynasty.  They've captured  a hybrid sound that's as varied as their musical heritage.  "Each member draws from a wide range of experience in the punk, blues, stoner, metal and rock scenes.  From playing in Andrew WK's early death metal band Kathode to rocking in Seduce.  From pioneering Michigan metal band Thoughts of Ionesco to seminal punks The Meatmen.  From LA's Mother to Detroit's Speedball. From crust punks Nema to the wrecking ball that is Year of the Pig.  From Heresy to the Holy Fire".  I think you're getting the big picture.
Make no mistake.  This is no bullshit, balls out, hEAVy ass, blue collar machine shop metal folks.  But not machine shop in the meathead sense.  Machine shop in the master class sense.  It's what these bad ass steel mongers are conjuring up in that cold, hard, dark, dank space that's putting a dent in the collective earholes of rockdom.  They're creating tightly torqued high octane sonic power plants with monster thrust from molten iron, pressed and rolled, bent and banged through grinder sparks and acetylene blow torch licks forged out of their massive, swaggering riffs and smothered in a undercoating of audible rust.
Standout tracks include THE MESS… a brazen, bitchin', frothing-at-the-mouth chugfest that spawns a rabid, full throttle hounds of hell gate charger reminiscent of some top shelf stoner bands like House of Broken Promises and Canadian east coast behemoths, Iron Giant.  THIS FIELD WAS MADE FOR KILLING… when was the last time you heard slide guitar in a freakin' metal song saddled right next to a scorching Tony Iommi-esque solo?  How about never.  And the thundiferous OUTRIDER?  Who wouldn't want to be in the mosh pit for this bad ass mutha.
Jeff Uberti from the band Hellmouth summed Knife up best.  "Their songs are thick and contain just the right balance of pure rock fury and sludgy heaviness to make the most discerning head bang".  Couldn't agree more.
Knife are Eric Blanchard on guitar, Nathan LeLandais-Miller on bass, Curt Massof on vocals, Chuck Burns on guitar and John Lehl on drums.
~Teeder
http://knifedetroit.bandcamp.com/
http://www.youtube.com/playlist?list=PL4D639BC218AB0DF6